Do you know what a mudroom is? Having one keeps your outerwear and clutter away from the rest of your spotless house would be great, right? More than just a storage space, this room can serve multi-functional purposes, from providing a welcoming home entrance to elevating your space's aesthetic. You can use your mudroom space effectively by learning what you need, setting priorities, and taking practical steps. Please keep reading to learn more about mudrooms, from what they should include to how to best design them.
What is a Mudroom?
A mudroom is the home's secondary entrance and a dedicated space to remove boots, coats, backpacks, and wet clothing before entering the main house. This room functionality provides storage and ensures the home's entrance stays clean and tidy. Depending on individual house designs, mudrooms can store miscellaneous items such as hats, pet leashes, and sports equipment.
How to Design the Best Mudroom for Your Home
Before you get started brainstorming design ideas, it's essential to focus on the practicalities of your mudroom. Think strategically about your needs and the solution you want to create for your home. Categorically breaking down your design into the following sections will be helpful:
Needs
Before looking into design elements, assess your needs. Do you require extra storage space? Or, do you need easy-to-clean surfaces (essential for kids and pets)? The more precise you are with assessing your needs, the better.
Layout
The available space your mudroom occupies will determine your structure. Ideally, a mudroom should be approximately no less than 5ft wide, so visitors and occupants can enter comfortably. If you have the available space and want additional laundry or extra storage, consider designing a rom that's approximately 10ft by 10ft.
Seating
If you have the space for seating in your mudroom, it can create a perfectly welcoming space. Consider benches that add convenience, organization, and a refined look.
Storage
The perfect way to control clutter, and keep your mudroom in shape, evaluate the best storage options to meet your specific needs. Consider storage baskets for shoes and miscellaneous objects. You can also include hanging hooks, built-in storage structures, cabinets and drawers, and a hall tree with rivets for extra storage.
Lighting
Lighting can make or break a space, which is no different for your mudroom. Because mudrooms are transitional areas, the light from doors, windows, and overhead fixtures, also known as ambient lighting, will meet many of the requirements. You will, however, still need to think about layering in different types of lighting, including task lighting and accent lighting. Find out more about choosing the proper lighting here.
Flooring
Because mudrooms have the potential to get so dirty, consider materials that can withstand dirt and muck from the elements. These materials should be easy to clean, mopped, washed, or hosed down when needed. Options include floor mats, easy-to-clean flooring, and durable, nonporous flooring.
What to Include in a Mudroom?
Cubbies and shelves
Adding cubbies to your storage can be a great way of keeping not-so-pretty items out of sight. Consider combining your cubbies with shelves, which can store more items and keep your mudroom looking clutter-free at all times.
Shoe Storage
You'll need to consider the size of your space and how many shoes you have. Options include:
Shoe racks: An inexpensive item that can keep shoes organized and off the floor.
Free-standing racks: If your space is a little larger, try a free-standing rack which will provide easy access to taking off and putting on shoes.
Fold-out shelves: A dresser-sized shoe cabinet with fold-out shelves will hold a dozen or more pairs of shoes out of sight for a small space.
Hooks
Maximize your storage capacity while adding style to your mudroom by hanging additional items on hooks. Peruse home improvement stores to find hooks in various styles, from traditional ironwork to modern chrome.
Floor Mats or Rugs
Since mudrooms experience a lot of foot traffic from muddy shoes, not all types of rugs can be appropriate. Instead of purchasing a pretty rug, concentrate on factors such as durability and functionality instead. Examples of appropriate mudroom floor mats and rugs include sisal rugs, waterhog mats, seagrass rugs, and polypropylene rugs.
Washer, Dryer, and Laundry Baskets
Space allowing, your mudroom can also serve a dual function as a laundry space. Add a washer, dryer, and laundry basket. But, to keep your laundry clean, make sure it's in a separate space from things that can make it dirty.
Clothing Hangers
Clothing hangers are the perfect items to bulk up the storage potential of your mudroom. Consider checking out Pinterest for clothing hanger inspiration.
Pet Supplies
Whether it's leashes, harnesses, pet food, or toys, pet supplies can take up a lot of room and add to clutter. You can significantly decrease your pet clutter by employing a few clever storage ideas for your mudroom. Space allowing, consider a pet storage station complete with hooks, baskets, and bins for extra organization. If you have a small mudroom, try some pull-out storage to store your pet supplies neatly.
Featured Mudroom Projects
In need of some mudroom design inspiration? We have you covered! Explore Feinmann's featured mudroom projects below.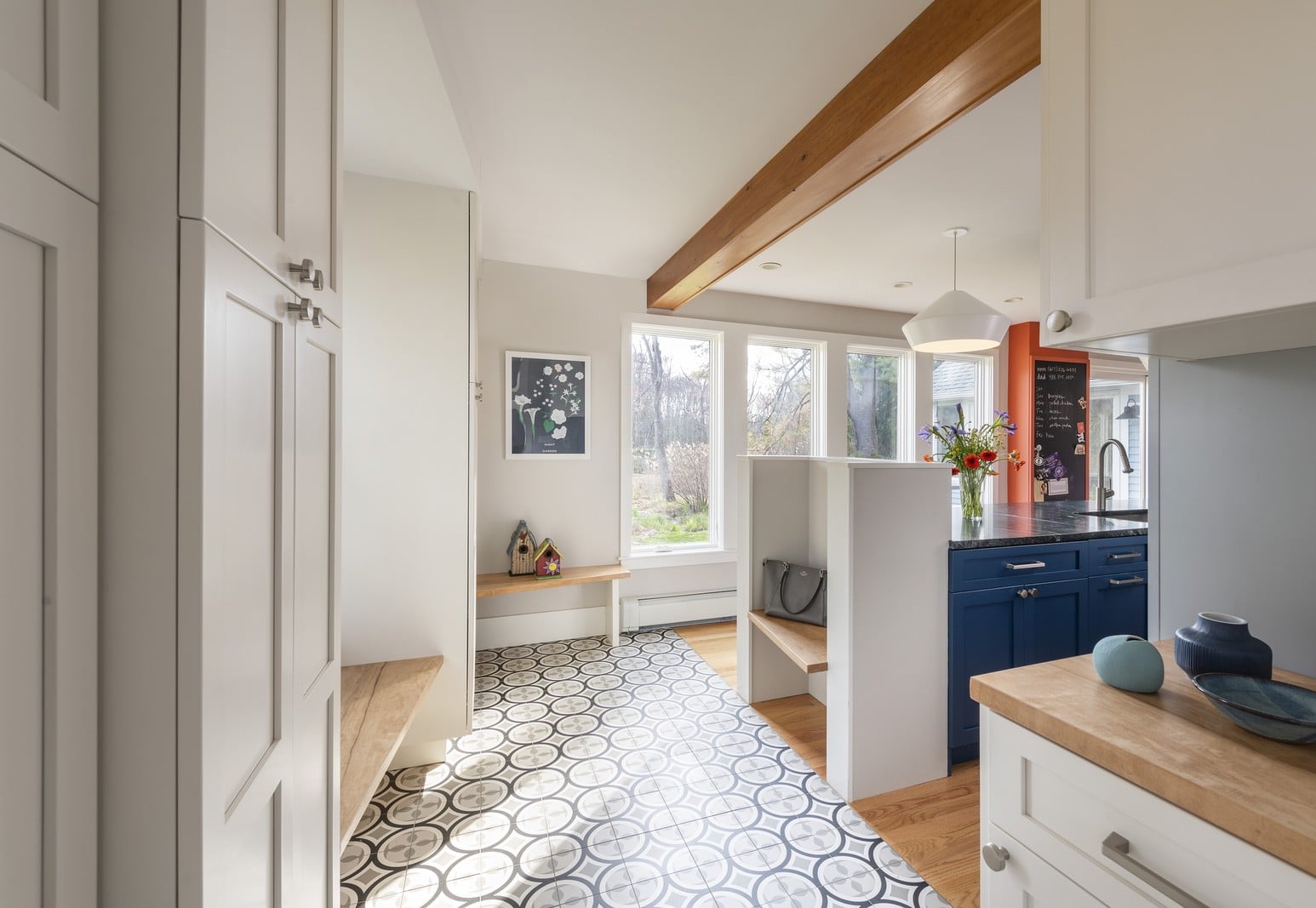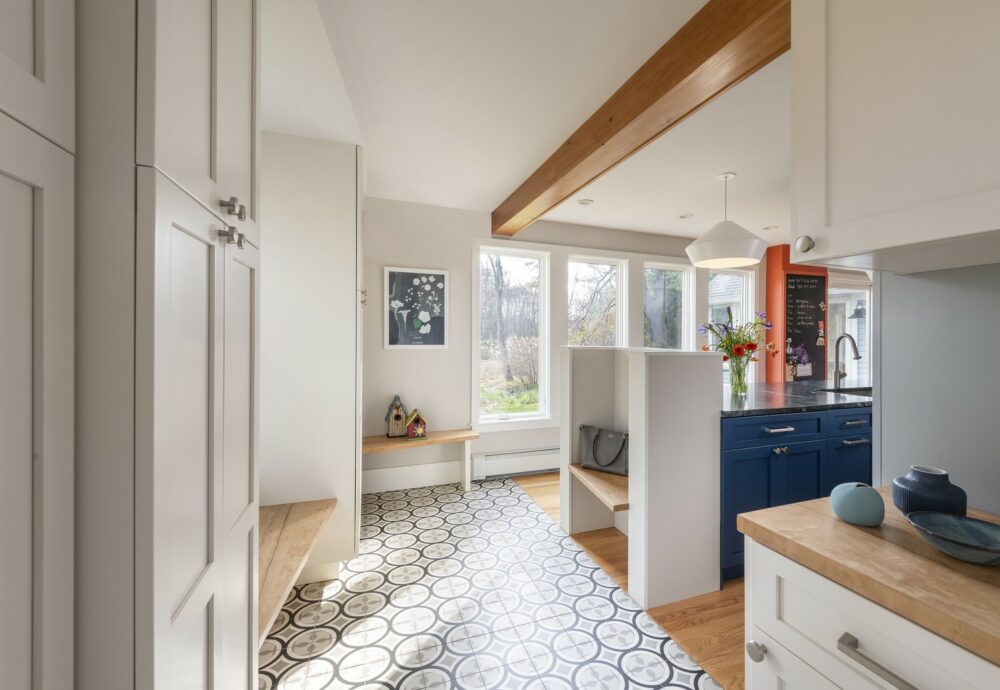 Playful Arrangement
This homeowner in Concord, Massachusetts, employed Feinmann to reconfigure their kitchen and dining room and improve the flow and functionality of their mudroom. The mudroom includes custom built-ins, benches, and beautiful mosaic flooring to help distinguish its boundaries. The mudroom floor is patchwork tiles in black and white.
Learn More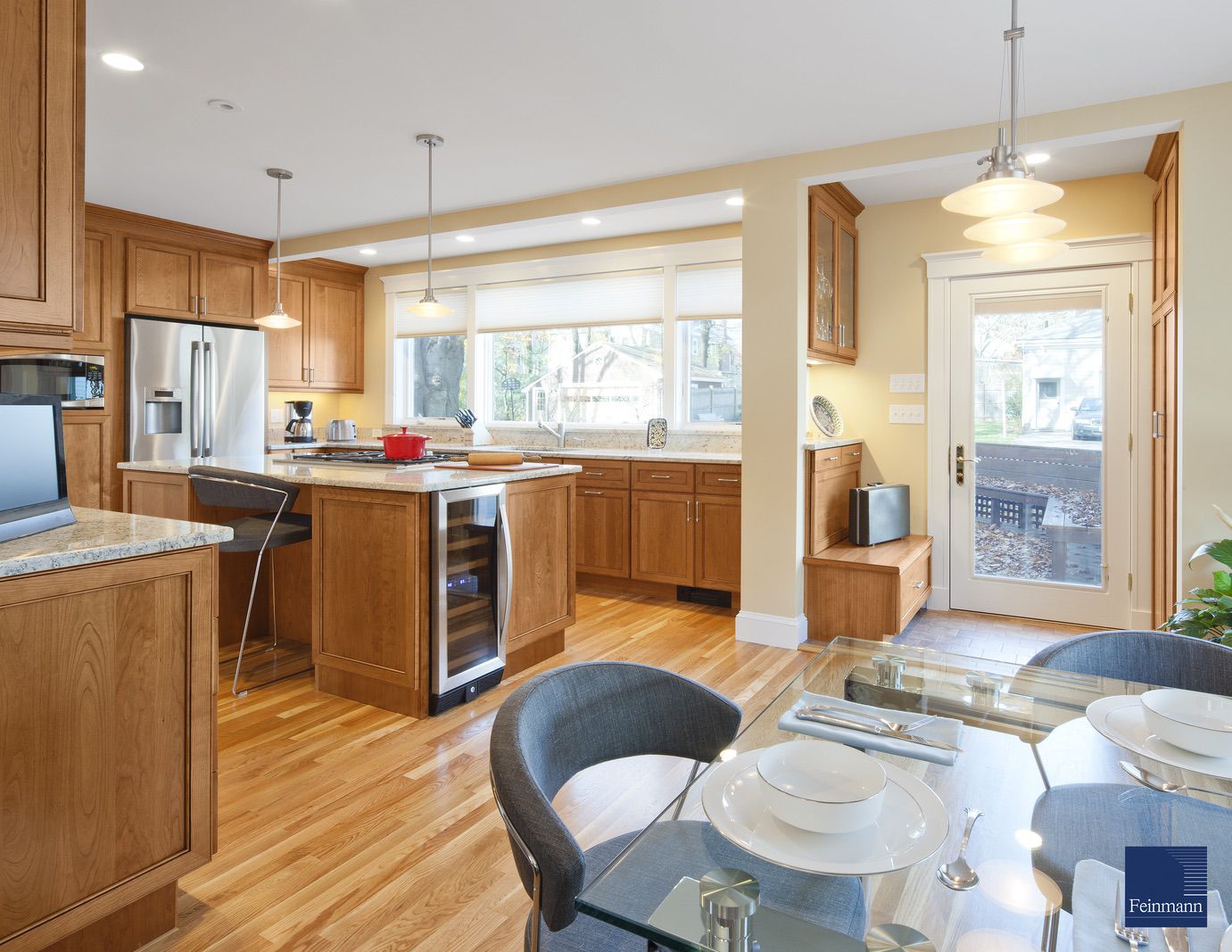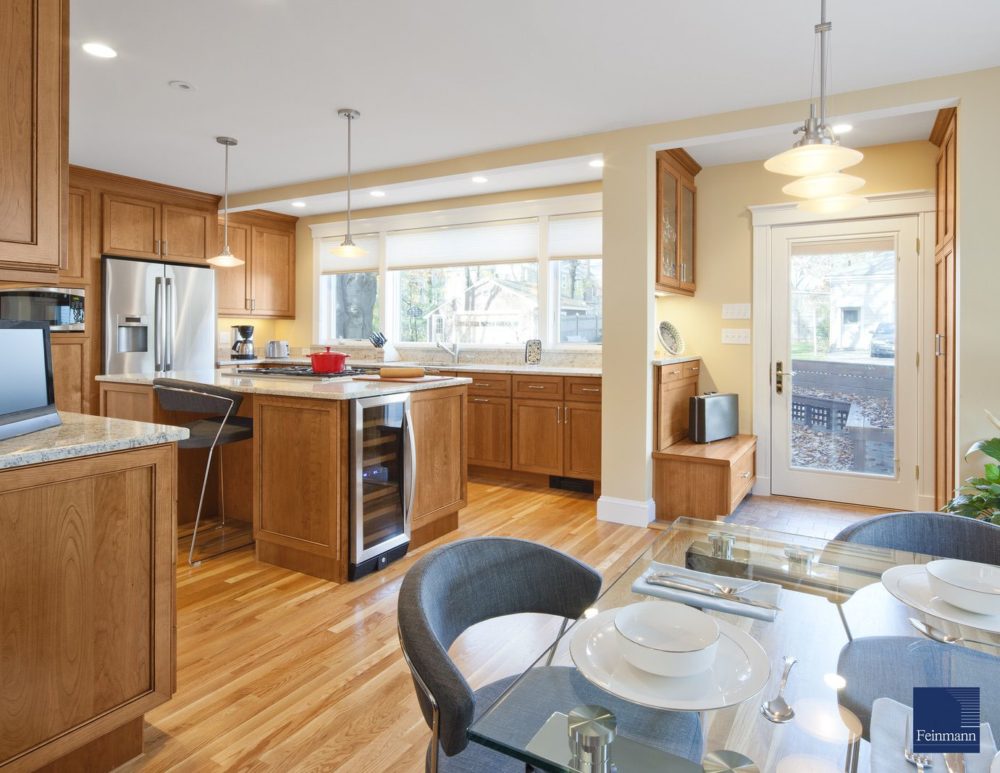 Kitchen Renewal
The Feinmann team worked on this Belmont home to create a new airy space complete with an island, mudroom, and additional cabinetry for storage. The team added a mudroom by the door, conveniently slotted into a three-foot, nine-inch space. This addition enhanced flow and added more working surface area. The team used an original exterior wall supporting beam as a corner for a bench and cabinet. This solution kept the mudroom open to the rest of the home. The bench provides space for removing and storing shoes. And the glass-door hutch is perfect for storing wine glasses within reach of the wine cooler.
Learn More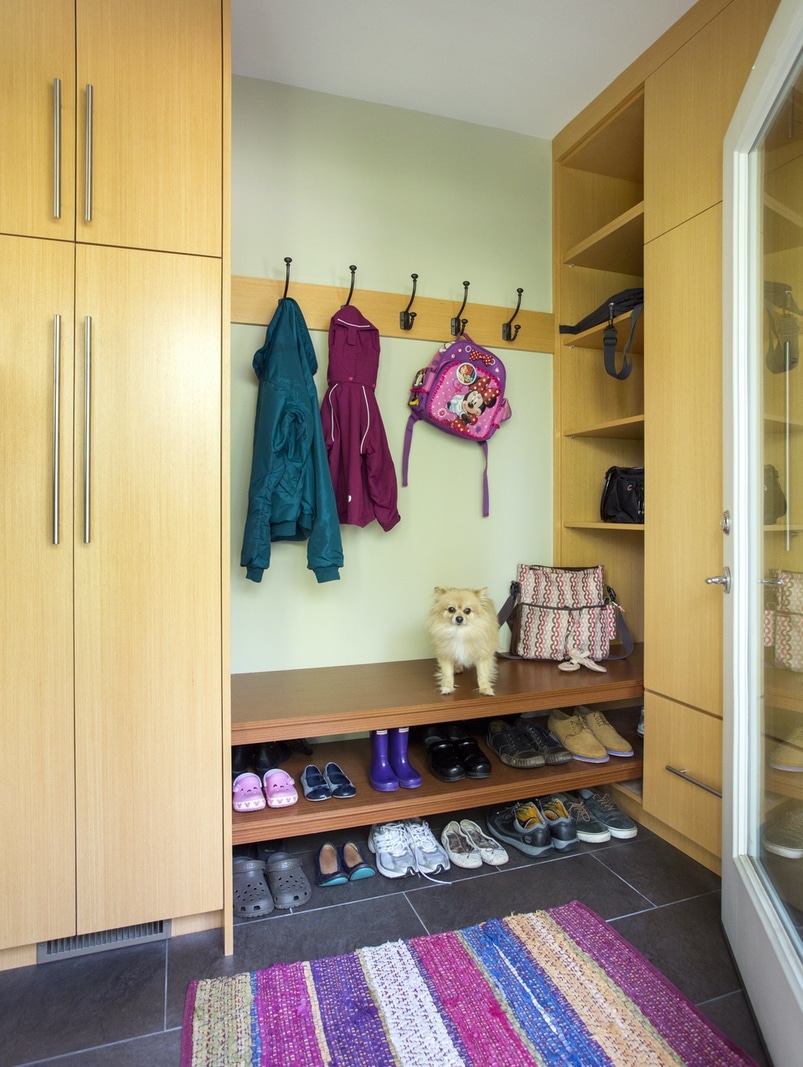 Family Home Remodel
The Feinmann team redesigned this Newton Tudor home to improve functionality. As part of the revamp, the team built a highly-efficient mudroom with plenty of storage. The cabinetry throughout the kitchen and mudroom is natural, slab-style wood, with a vertical grain and stainless steel bar pull hardware.
Learn More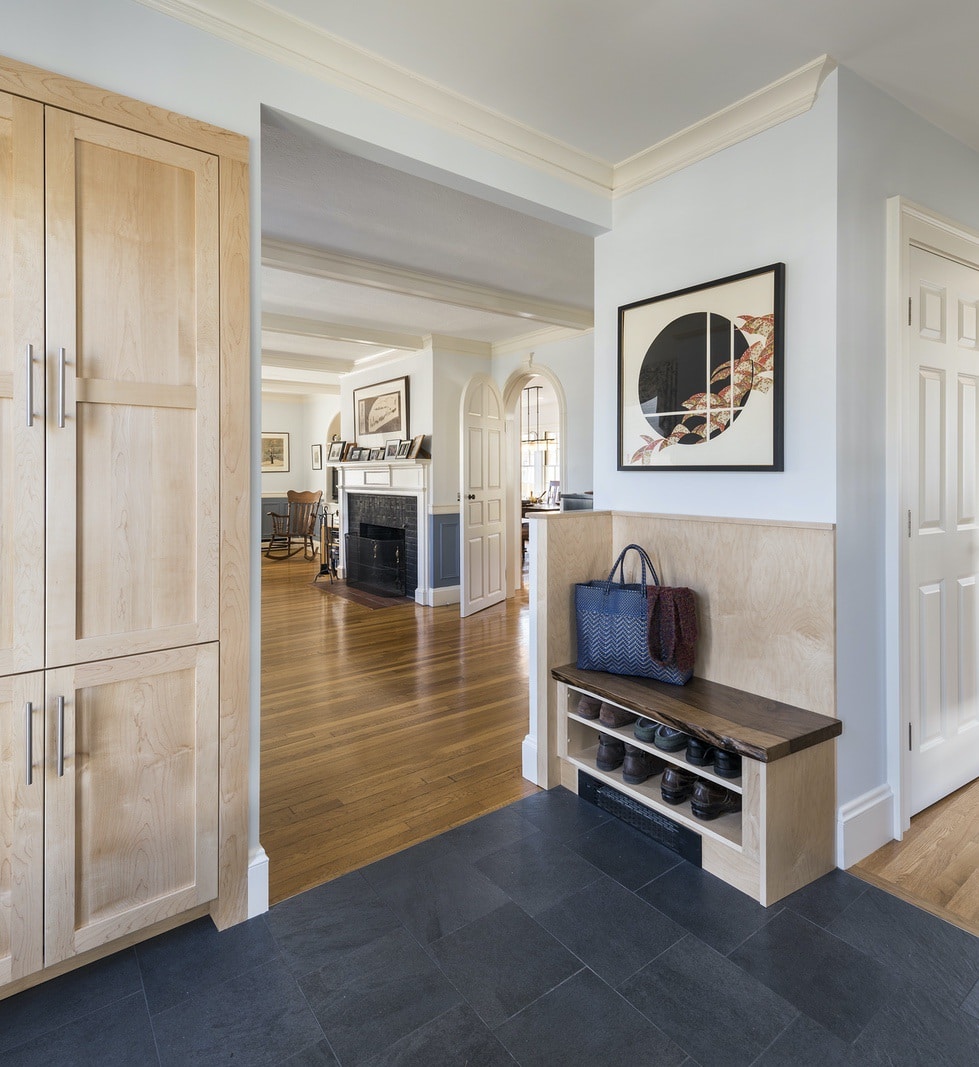 Hosting Haven
Drawing on the Japanese roots of its owners, our team crafted a traditional 'Genkan' entryway. This space features an area to take off and store shoes, as well as a sitting bench and closet for coats or add-ons.
Learn More
Conclusion
We hope you have taken away some practical steps from this blog that will help inform your mudroom design and layout. We have what you need to make your mudroom functional and beautiful, including ideas for containing your clutter. At Feinmann, we pride ourselves on being able to help our clients with any size home design and building project. So no matter how big or small your project may be, please do not hesitate to reach out to our team to see how we can be of assistance.