Are you considering undergoing a historic home renovation? If so, setting yourself up for success before renovating your home is essential. Historic home renovations can take a lot of time, money, and resources, so it's critical to carefully consider your options before getting started. Let's discuss historic renovation considerations, and look at some beautiful projects guaranteed to inspire you.
What You Need to Consider Before Starting a Historic Renovation
Renovating a historic home requires a delicate balance. On the one hand, you want to preserve the home's traditional charm, but on the other hand, you want to optimize the building for modernity and comfort. Let's delve into the key considerations to assess before starting your historic home renovation:
Historic District Home Renovations
Is your home in a historic district? If so, your renovation must first gain approval from local architectural review boards. In this scenario, you must pay meticulous attention to project planning. Furthermore, more costly, true-to-era materials may be required for the renovation.
Return on Investment
If your main goal is return on investment (ROI), keep in mind that poorly restored houses may not retain their value. If you plan to achieve a healthy ROI, consider consulting with experts to keep some of the property's original value unchanged.
Professional Consultation
If you want to maximize ROI, keep costs down, and avoid common pitfalls, consider hiring professionals to do the job. Professionals can help you navigate architectural review boards and find or recreate antique materials.
Prepare for Surprises
Older homes almost always come packed with hidden surprises you will discover once you start digging in. For example, structural damage can occur in warm, wet climates, resulting in termite infestations. On a more positive note, good surprises are also often unearthed. You may discover elements such as original wood floors when pulling up tiles.
Historical Home Renovation Tips
Navigation your historic home renovation will become a whole lot easier when you incorporate the following tips into your process:
Inspections
Before you undergo the renovation, consider hiring an inspector experienced in old architecture. The inspector can point out potential roadblocks such as ductwork, wood rot, and any existing masonry issues.
Foundation and structure
When renovating a historic property, structural and foundational issues often arise. For example, if the house is leaning or there are cracks in the walls, doors, or ceilings, it's time to get an expert opinion. Fixing structural issues is often expensive and time-consuming. Therefore, it's important to know what you're getting yourself into and factor repairs into your overall renovation budget.
Flooding and leaks
Flooding and leaks are common in historic properties and can cause many problems, such as water stains, rotten wood, or dry rot. To assess whether this will be an issue, examine under your home's roof, on window sills, along baseboards, and around ductwork.
Energy inefficiencies
An expensive component of a historic renovation is often an energy consideration. You may need to replace the home's furnace, windows, and insulation.
Windows and doors
Historically built windows and doors often require an architectural specialist for renovation to make them compliant with modern energy codes.
Insulation
Apart from soaring energy bills, poorly installed insulation can result in severe property damage due to water condensation. Furthermore, unchecked moisture can result in mold and bacterial growth, which attracts termites. Poor insulation is a recipe for disaster, accelerating rot and decay of organic matter, such as wood and paper.
HVAC
You will need to ensure your property's ductwork is insulated and sealed and that the mechanical unit correctly fits the space. An oversized unit won't cycle frequently enough to remove moisture from the air, resulting in condensation around doors, ducts, windows, walls, and ceilings.
Electric
Older electrical systems only sometimes come equipped with sufficient panel circuits, which may cause issues installing a more modern system. Ensure you understand enough information about the current electrical system to prevent potential malfunctions.
Plumbing
Plumbing is another critical consideration of historical buildings that you must consider in your overall budget. To check if the existing plumbing is adequate, check if the shower drains quickly and maintains pressure when the toilet flushes.
Plaster
You don't necessarily need to replace plaster. Instead, you can repair it. The easiest method is to gut the house down to the studs, run all new wires and pipes, and then put up drywall.
Historic Home Renovation Before And After
Here at Feinmann, our team has undergone many successful historical home renovations. Explore some of our projects below: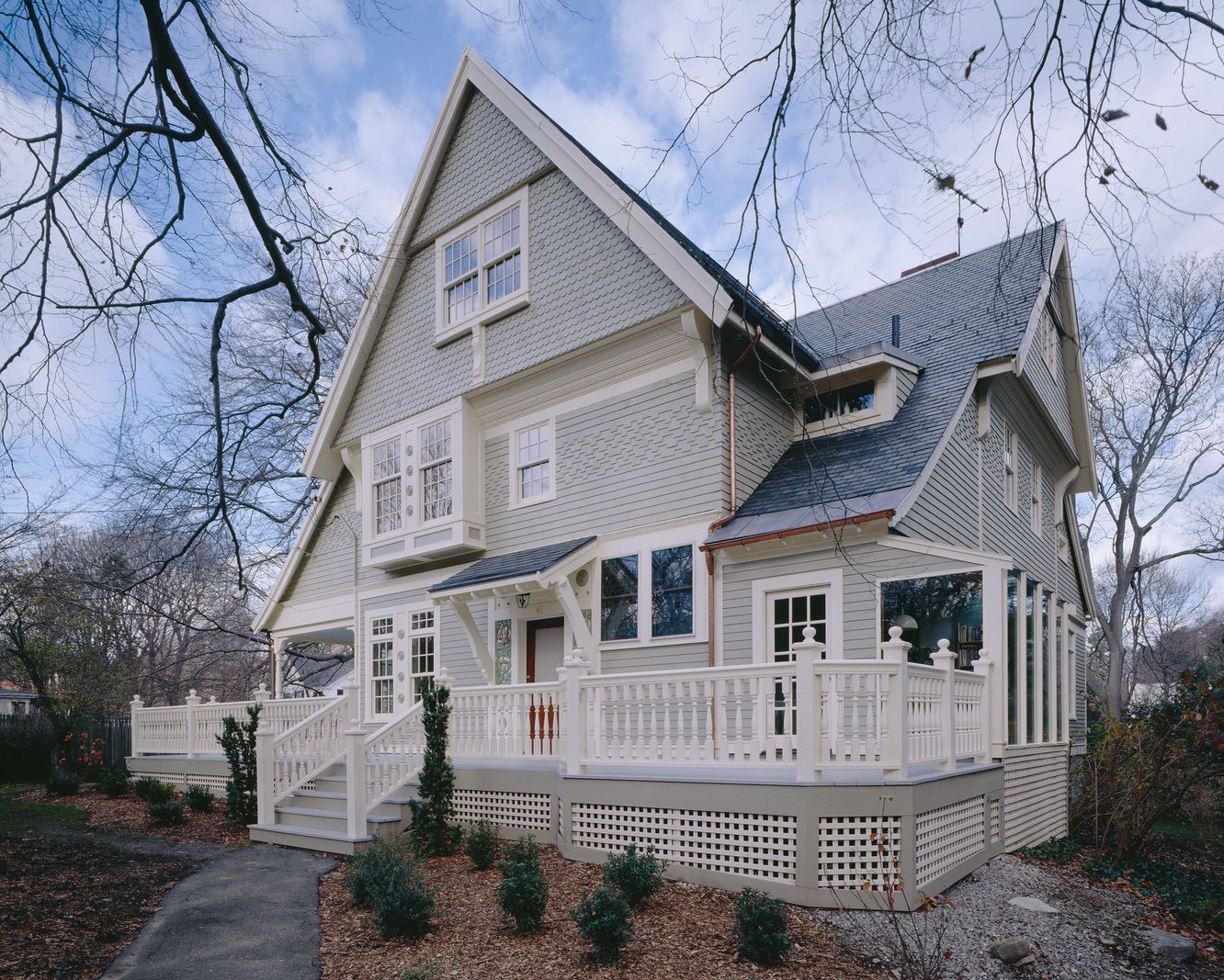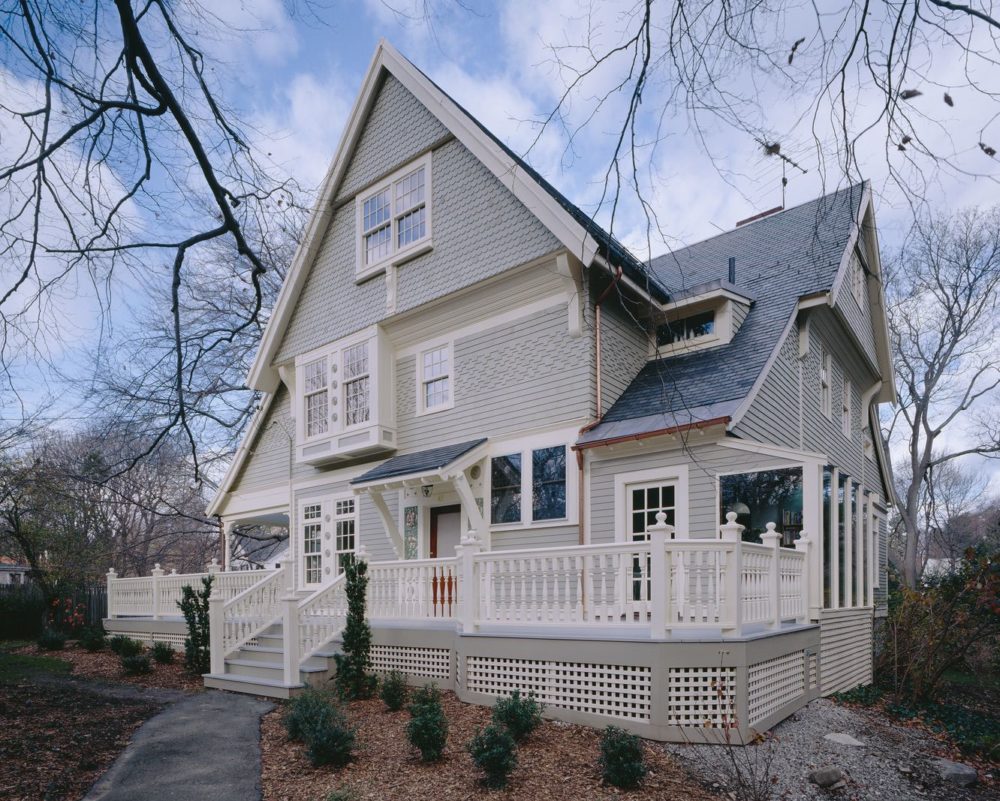 1890s Renovation
The homeowners asked Feinmann to restore the façade of their 1896 Victorian house to its original condition. The client provided hand-architectural drawings, which our team used as a "template," making strategic design changes where necessary for significant cost savings. Some of these changes concerned the bay windows. With the second-floor bay, our team simplified the construction elements but achieved the same character. The porch restorations saw some minor design changes as well. The front porch was only slightly reconfigured – to avoid the expense of an exact replication – but the Feinmann team brought back its original grandeur and scale, the key to the home's charm. Much of the work on the façade involved the details: brackets and panels, shingle work, moldings to create "ribbon boards," and molding details to match the house's original look.
Learn More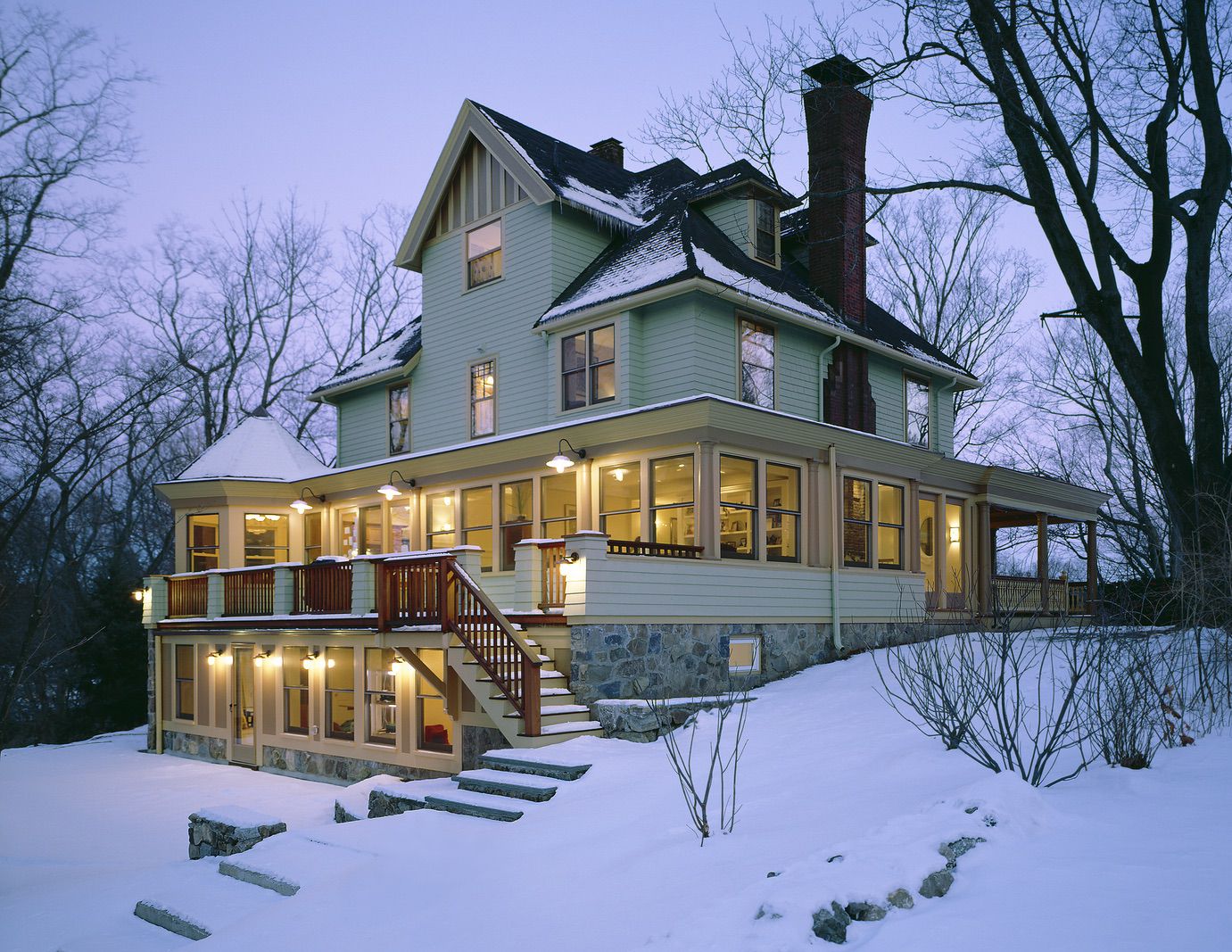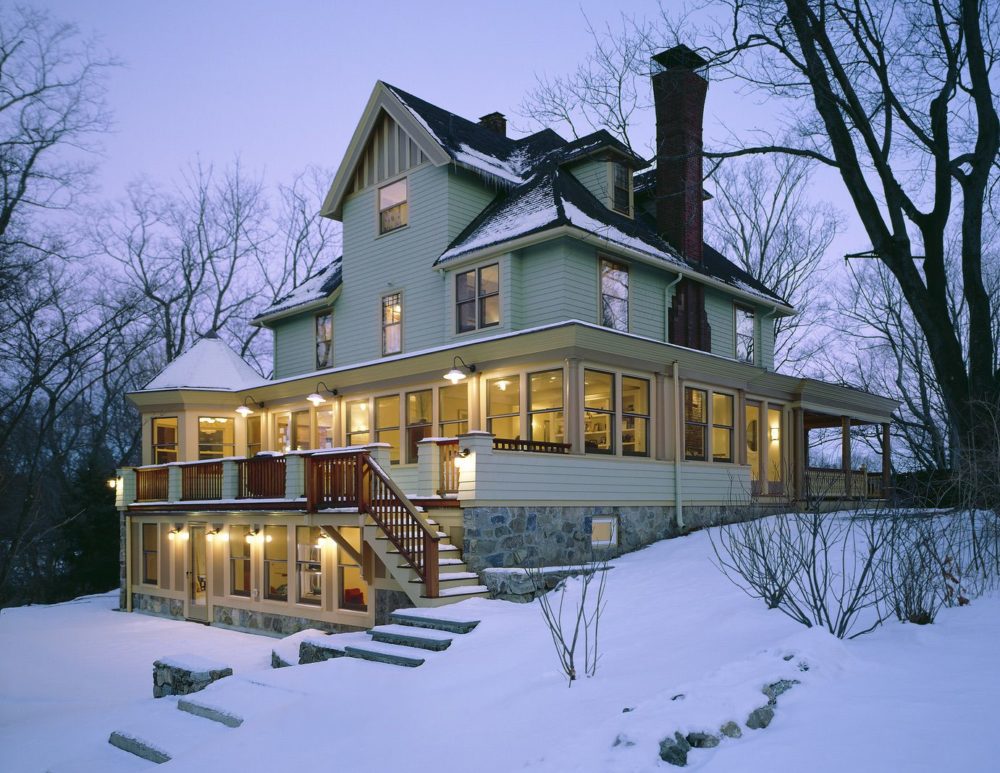 Victorian Re-Envisioned
This Queen Anne Victorian was striking in appearance, but inside, the interiors were awkward. The homeowners challenged Feinmann to create a functional, modern living space while preserving the home's charm. The team's concept was to wrap the porch around the house, pushing out the existing walls to create an enclosed living area within the extended porch element and renovating the interior to increase the amount of usable space and add flow to the cramped rooms. Wrapping and enclosing the "new" porch allowed the team to open up the dining room and reconfigure the narrow living room to create a larger space. A spacious and bright kitchen with a dramatic octagonal eating area is now the heart of the home. Historically accurate details throughout, including a dramatic gold-veined fireplace surround and fireside inglenook seating, add architectural interest and underscore the home's original design. <
Learn More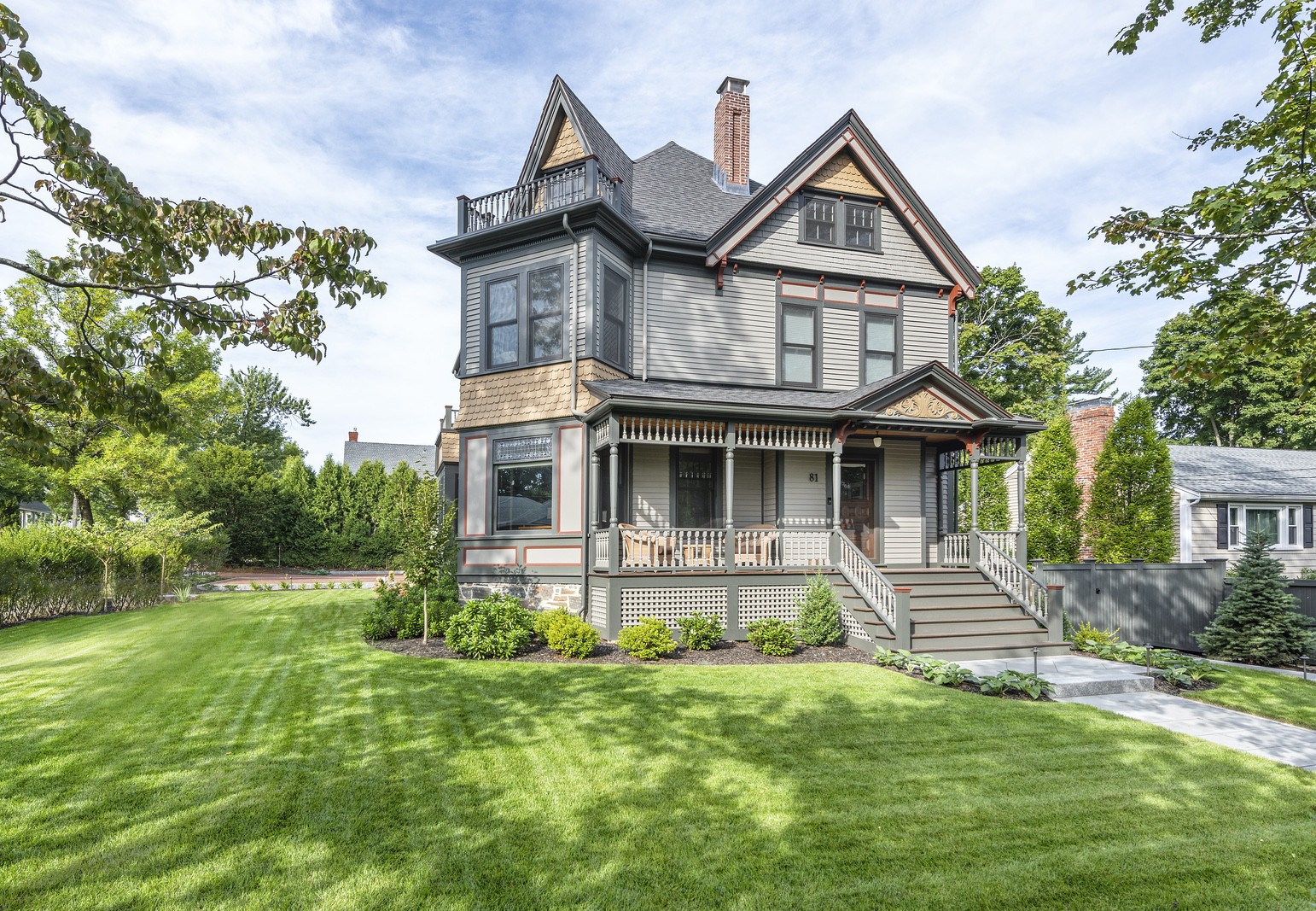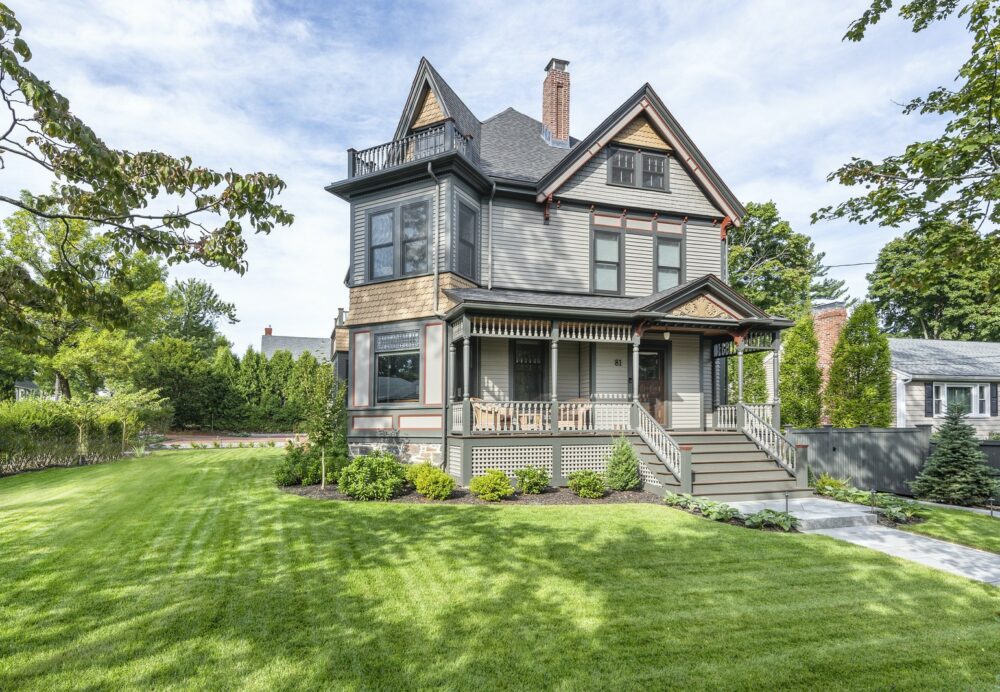 Victorian Beauty
Feinmann restored the exterior of an 1885 Victorian home that had deteriorated over the years in Arlington, Massachusetts. Our team revived the home's original splendor by fixing and improving the front and back porch, Juliet Balconies, shingles, panels, and intricate design elements. The team focused on restoring the porches by repositioning the stairs, reinforcing the brick and wood support posts, installing pressure-treated framing and mahogany decking, and fixing its existing handrails and roof structure. Feinmann then shifted attention to the house's design details by replacing all the balusters, posts, spindles, and corbels that give the outside its Victorian feel.
Learn More
Conclusion
We hope our essential tips and considerations are helpful when you are undergoing your historic home renovation. If you like any of our historic renovations before and after, reach out to us to learn more about how we can help you achieve your home dreams.