Here is a collection of the best kitchen and bath designer showrooms in the Greater Boston area. Whether you are looking for kitchen appliances, bathroom fixtures, general lighting, or hardware, these showrooms will help bring your vision to life.
Important Note: These showrooms are listed in alphabetical order.
Ardente Supply & Waterspot Showrooms
Ardente Supply & Waterspot Showrooms specializes in plumbing, hardware, and lighting to transform your bathroom into a hidden oasis. They currently have three showrooms throughout Massachusetts that feature complete bathroom displays and a large selection of products. When you visit one of their locations, a team member will guide you through their inventory so you can make the best choices possible.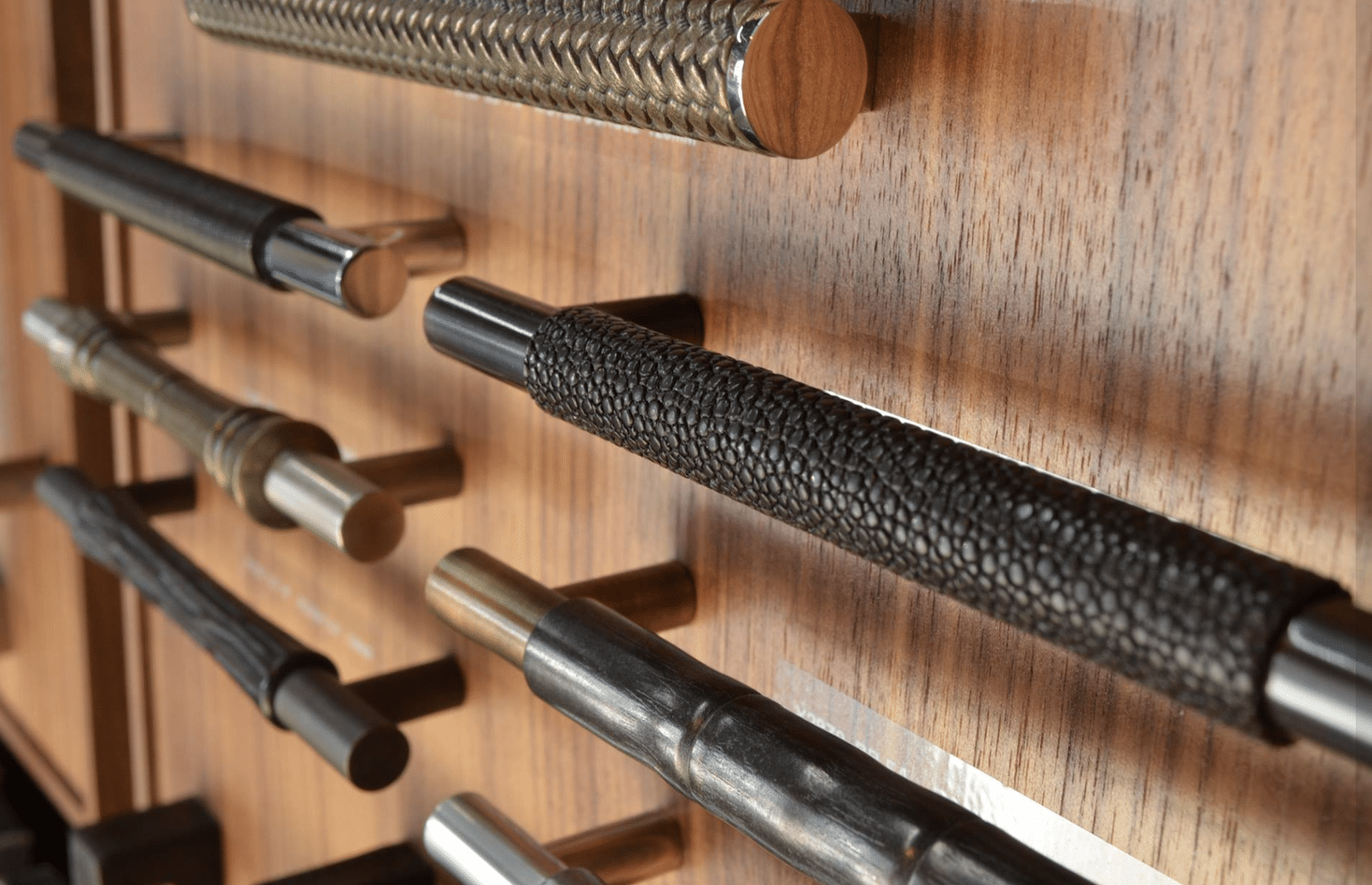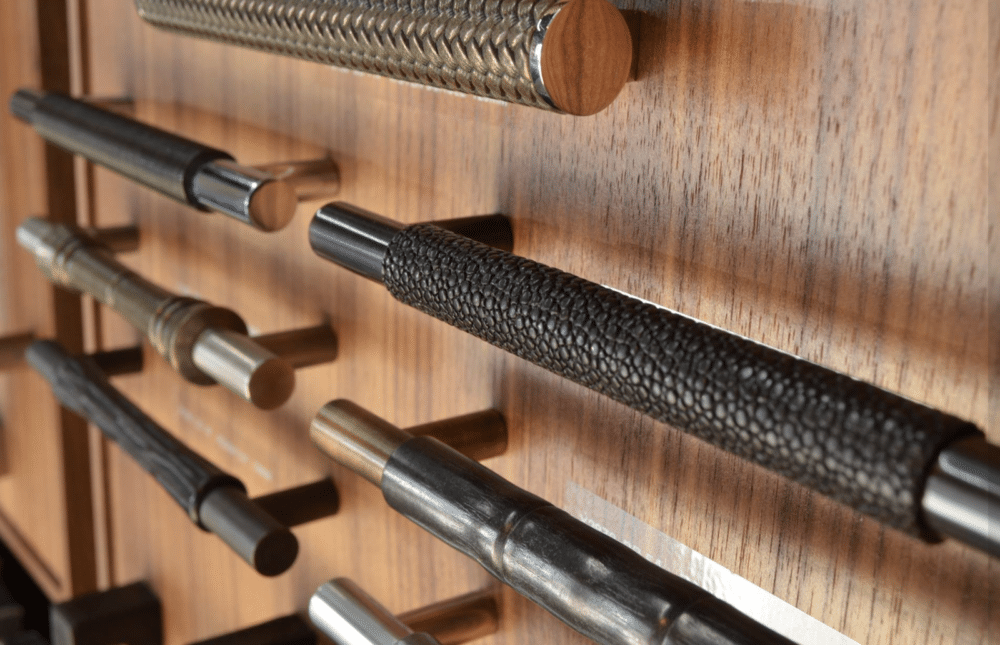 Showrooms
Boston
One Design Center Pl Suite 429
Boston, Massachusetts, 02210
(857) 250-4878
Natick
575 Worcester St
Natick, Massachusetts, 01760
(508) 651-2200
Braintree
11 Brooks Dr
Braintree, Massachusetts, 02814
(781) 817-5444
---
Designer Bath & Salem Plumbing Supply
Designer Bath is an excellent showroom for your kitchen and bath need since they combine a comprehensive selection of quality products with a tremendous amount of expertise and personal attention.
Their 4,500 square foot showroom in Watertown, Massachusetts, features carefully curated products for various tastes and styles. Through vignettes, working displays, and showcase walls, Designer Bath is a fantastic place to walk through for both homeowners and professionals who need inspiration for their next project.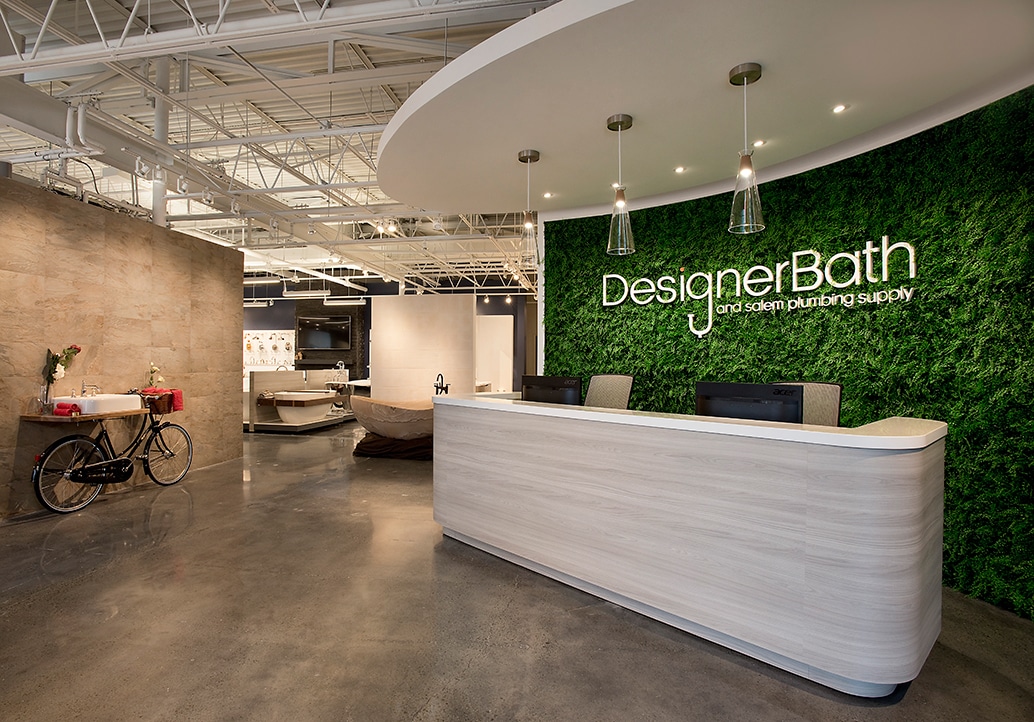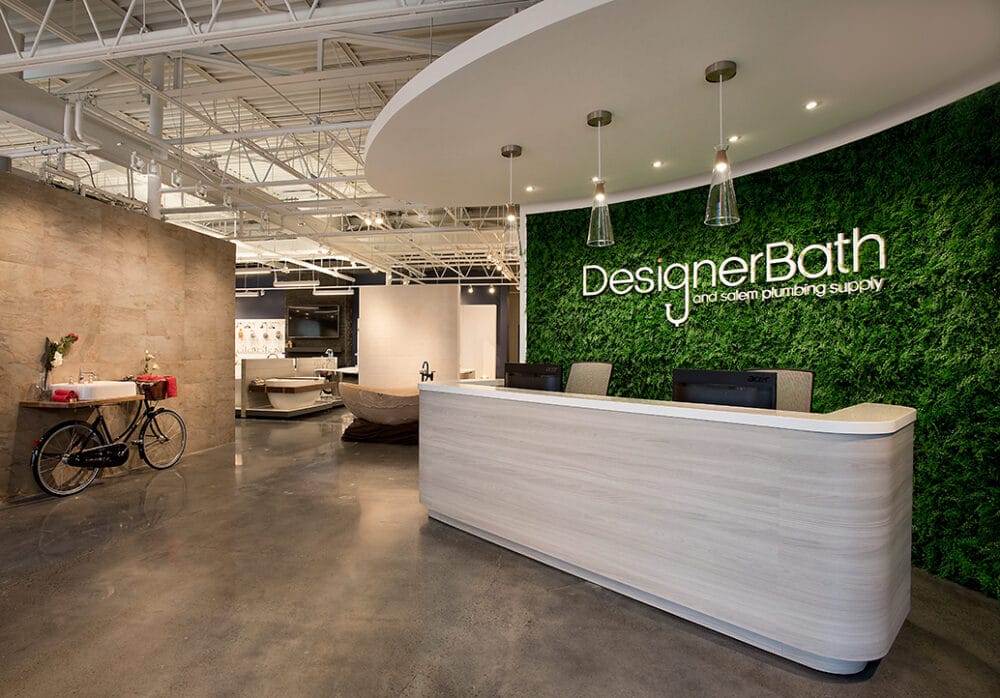 Showrooms
Watertown
604 Pleasant Street
Watertown, MA 02472
800-499-BATH
Beverly
97 River Street
Beverly, MA 01915
800-649-BATH
---
Mack Designer Hardware
Mack Designer Hardware offers a wide range of high-quality hardware for kitchens and bathrooms. The company is family-owned and operated and has been around since 2016.
In addition, they have a beautiful showroom in Burlington, Massachusetts, where you can see and touch all their hardware. Upon your visit, their friendly and knowledgeable sales team will guide you through the selection process. To ensure your satisfaction, Mack Designer can team up with a contractor to install the hardware.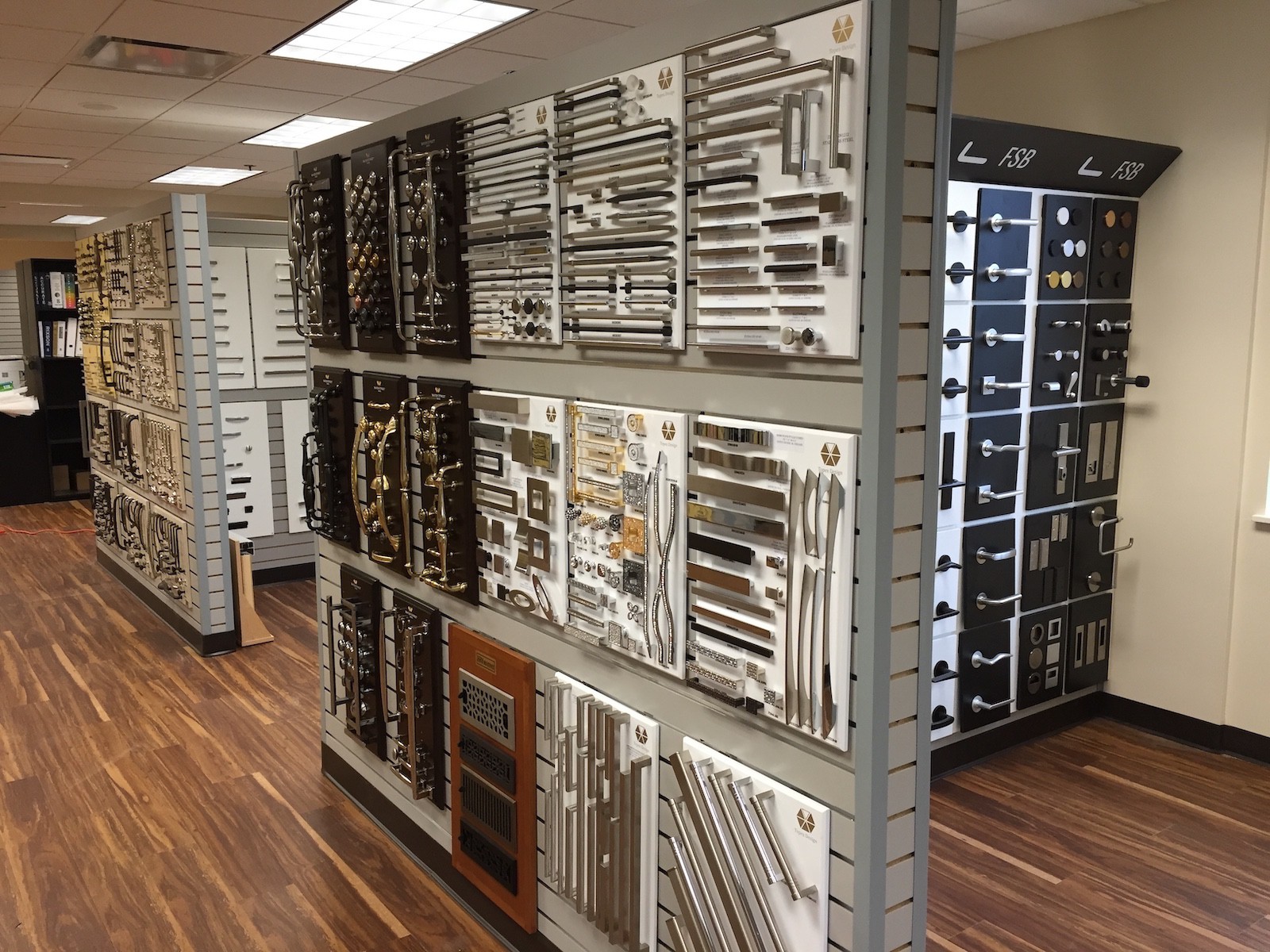 Showroom
Burlington
175 Bedford Street
Burlington, MA 01803
(781) 552-3200
---
Monique's
If you are looking to select your home renovation fixtures, Monique's is an excellent spot to visit. First, they are a 3,600 sq. ft kitchen and bath showroom in Watertown, Massachusetts. And because Monique's is smaller, they only feature the best kitchen and bathroom products. Furthermore, they provide outstanding customer service and have a Licensed Master Plumber on-site. In addition to helping homeowners, Monique serves trade professionals like architects, contractors, builders, interior designers, and plumbers.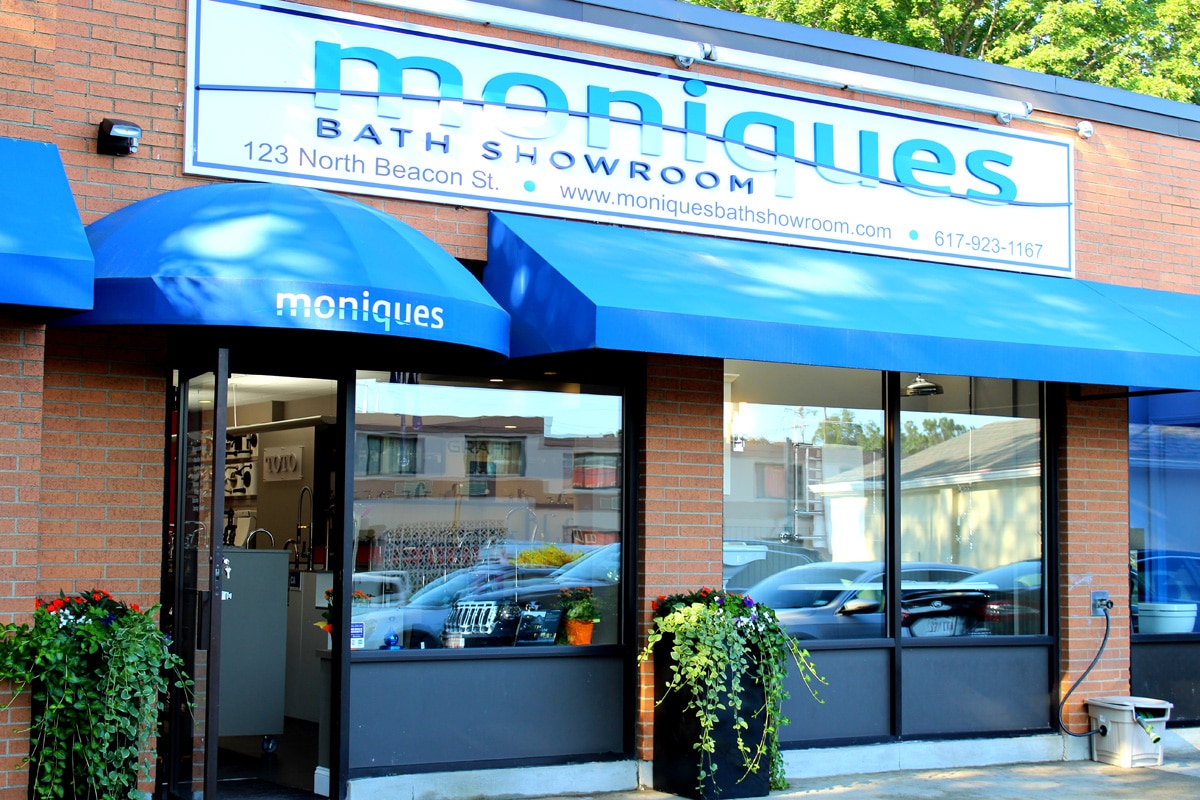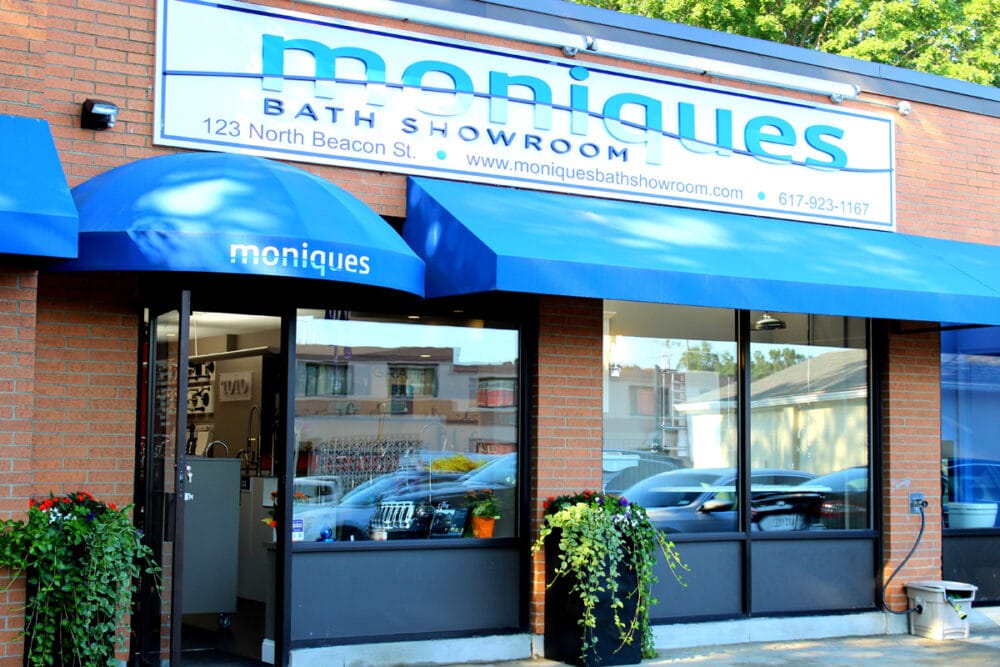 Showrooms
Watertown
123 N Beacon St.
Watertown, MA 02472
(617) 663-8505
---
Needham Decorative Hardware
Needham Decorative Hardware is an excellent resource for decorative cabinets, doors, lighting, plumbing, and bath hardware. The team takes pride in its commitment to high-quality products and materials. Expect great results when pairing these excellent products with trusted guidance and advice from an industry pro.
Needham Decorative Hardware specializes in new and unique products, intending to add the most value to customer's homes. This showroom isn't open for walk-in shopping. Instead, the team caters mainly to trade professionals, with opportunities to visit the showroom on an appointment basis. Call with questions if you are an architect, designer, builder, or homeowner.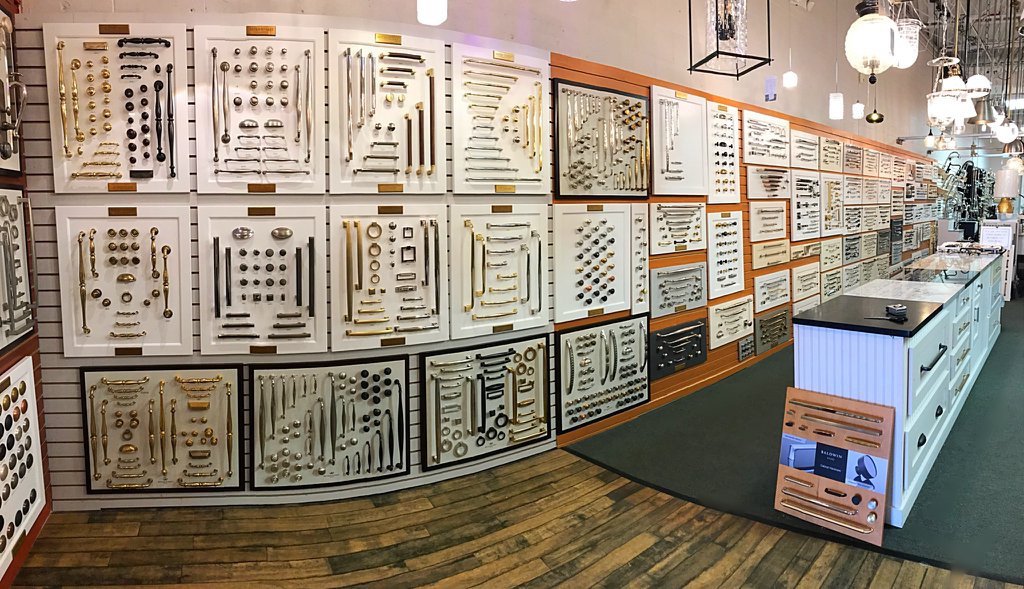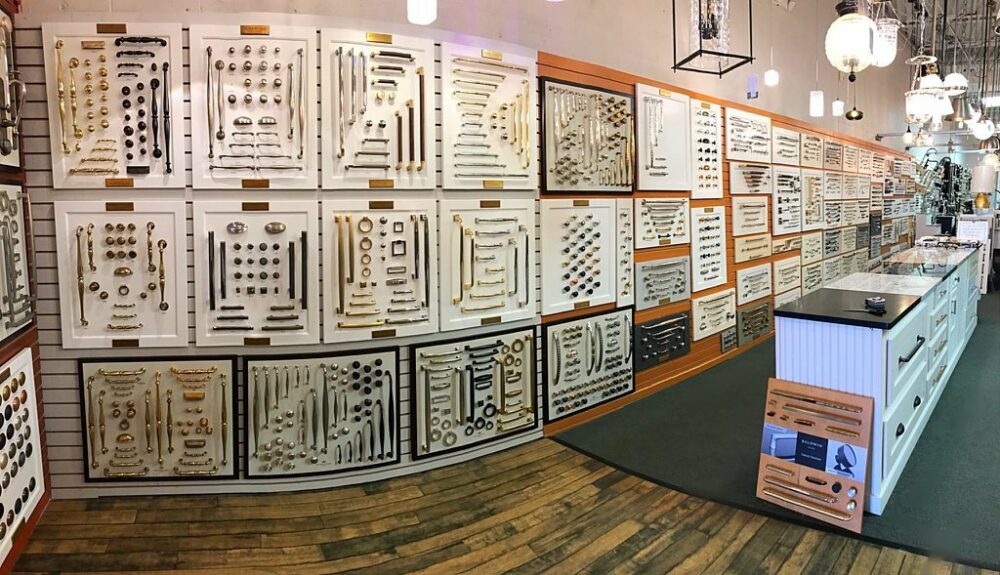 Showroom
Needham
26 Wexford St
Needham, MA 02494
(781) 449-5333
---
Splash Spritzo
Splash Spritzo transforms average bathrooms and kitchens into extraordinary spaces. These showrooms cater to both design professionals and retail customers, featuring top-notch products from the leading brands in the industry. Regardless of your price point, you can find the quality materials you need: faucets, finishes, vessels, fixtures, and accents.
These showrooms offer a variety of styles, including traditional, eclectic, transitional, and contemporary. For fully functioning displays, visit the flagship, state-of-the-art showroom: Splash Newton. Talk to an experienced design consultant to select a single product for your home. Or work together to choose all the finishes and details needed for a complete kitchen or bathroom renovation.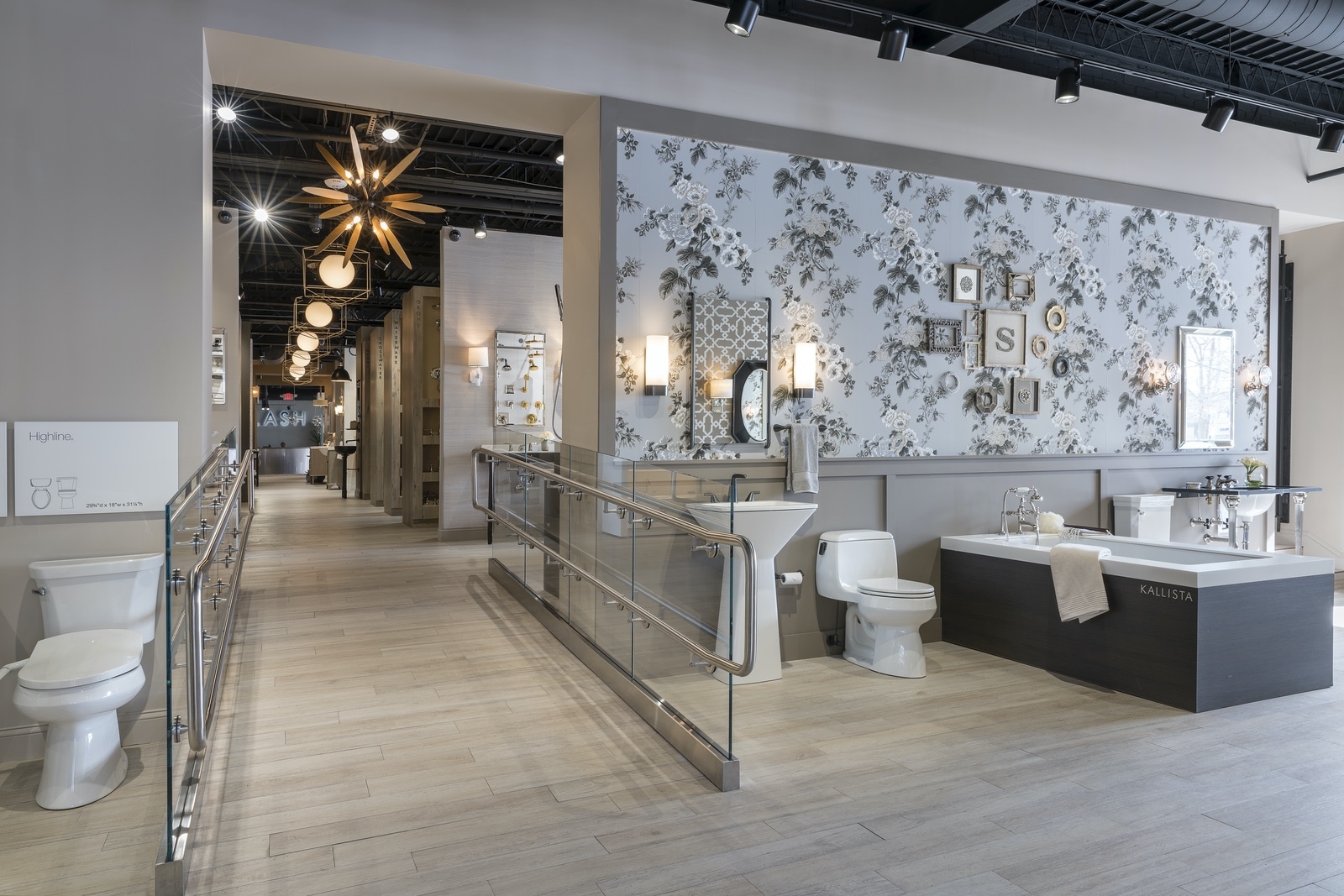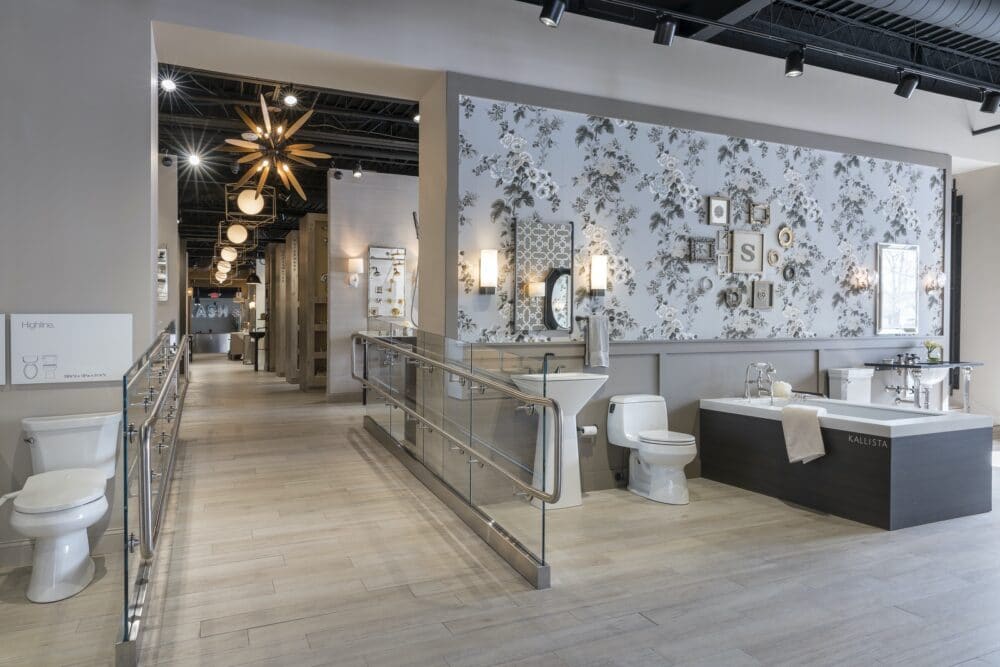 ---
Poirier Sales and Service
The friendly team at the Poirier Sales and Service showrooms has been serving the community since 1964, offering durable appliances for every room in the house. One of the reasons customers choose Poirier Sales and Service is the top-notch customer service provided by this family-owned appliance company.
Choose from individual appliances, packages, parts, or services, with products available to both individual customers and commercial clients: designers, builders, developers, and property management. Ask about available trade discounts, reward programs, and builder programs.
Both Poirier Sales and Service showroom locations include a full range of products – everything from refrigeration to dishwashers, laundry, air conditioners, and more. Compare traditional designs and smart appliances to find the perfect fit for your home.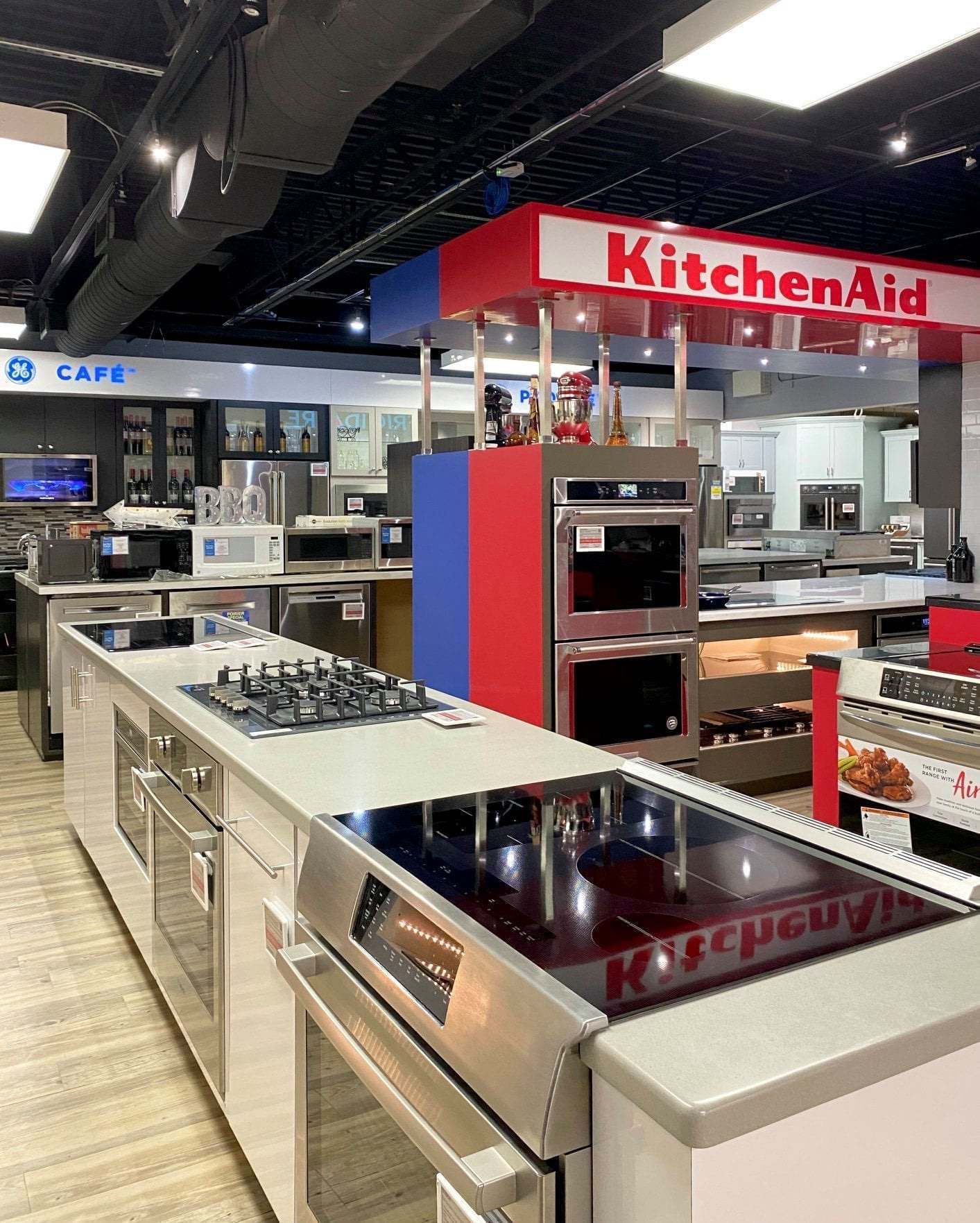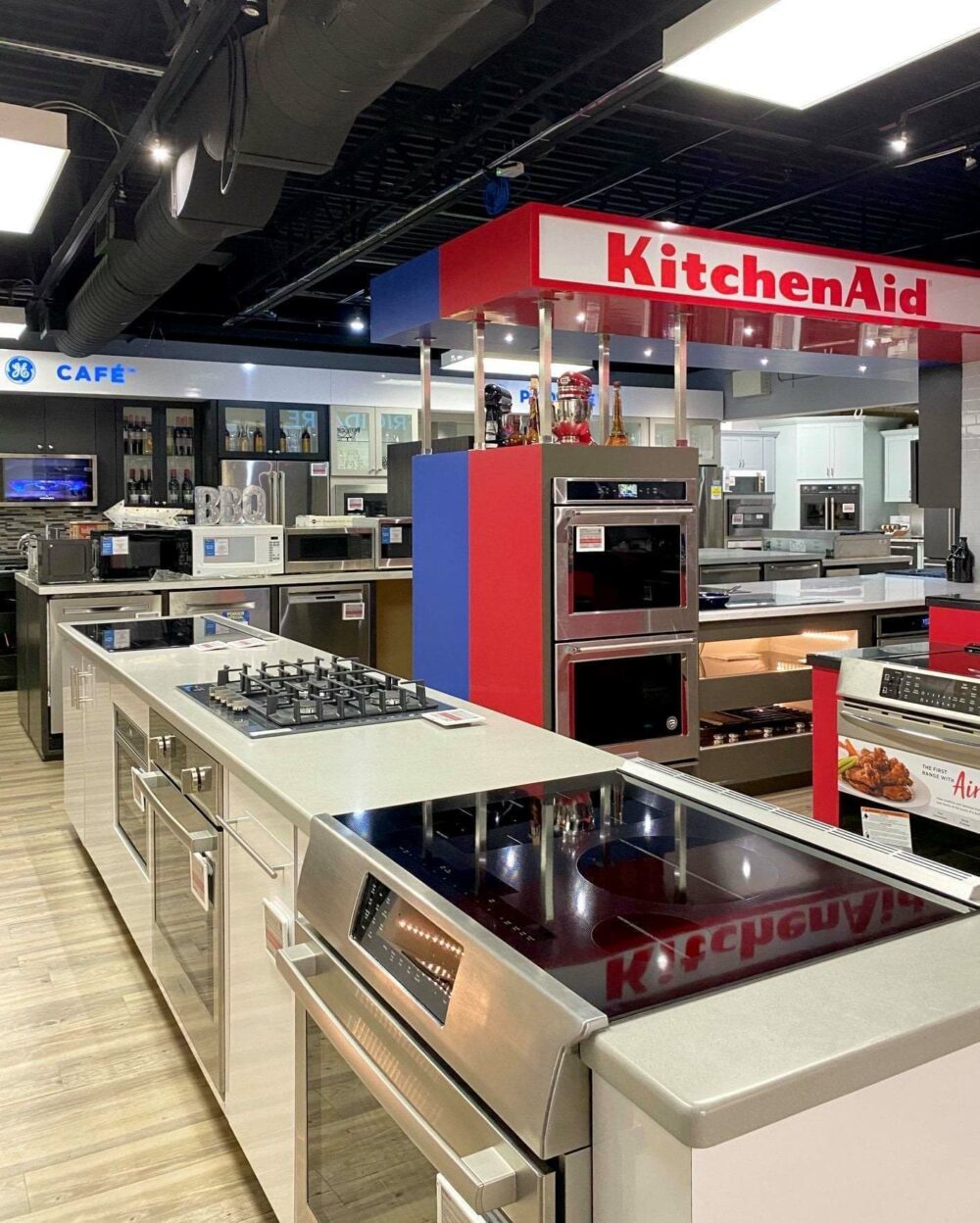 ---
Yale Appliance
Step into a Yale Appliance showroom to enjoy an immersive experience featuring live kitchens and all the brands you know and like. Each location has tens of thousands of square feet of showroom space with award-winning displays and various designs and styles. Talk to a customer associate at an Education Station to learn about how these products integrate into the cabinetry to create a beautiful, functional living space.
If you are looking for a deal, visit the Yale outlet, where you can find products at 20 – 60% off, including scratch and dents, overstock, and floor displays. One of the benefits of choosing Yale Appliance is the team's commitment to customer satisfaction. You can schedule a showroom visit to have a personal shopping experience with a senior associate. Or, book a video call if you prefer a virtual consultation. Order in the showroom or online, at your convenience.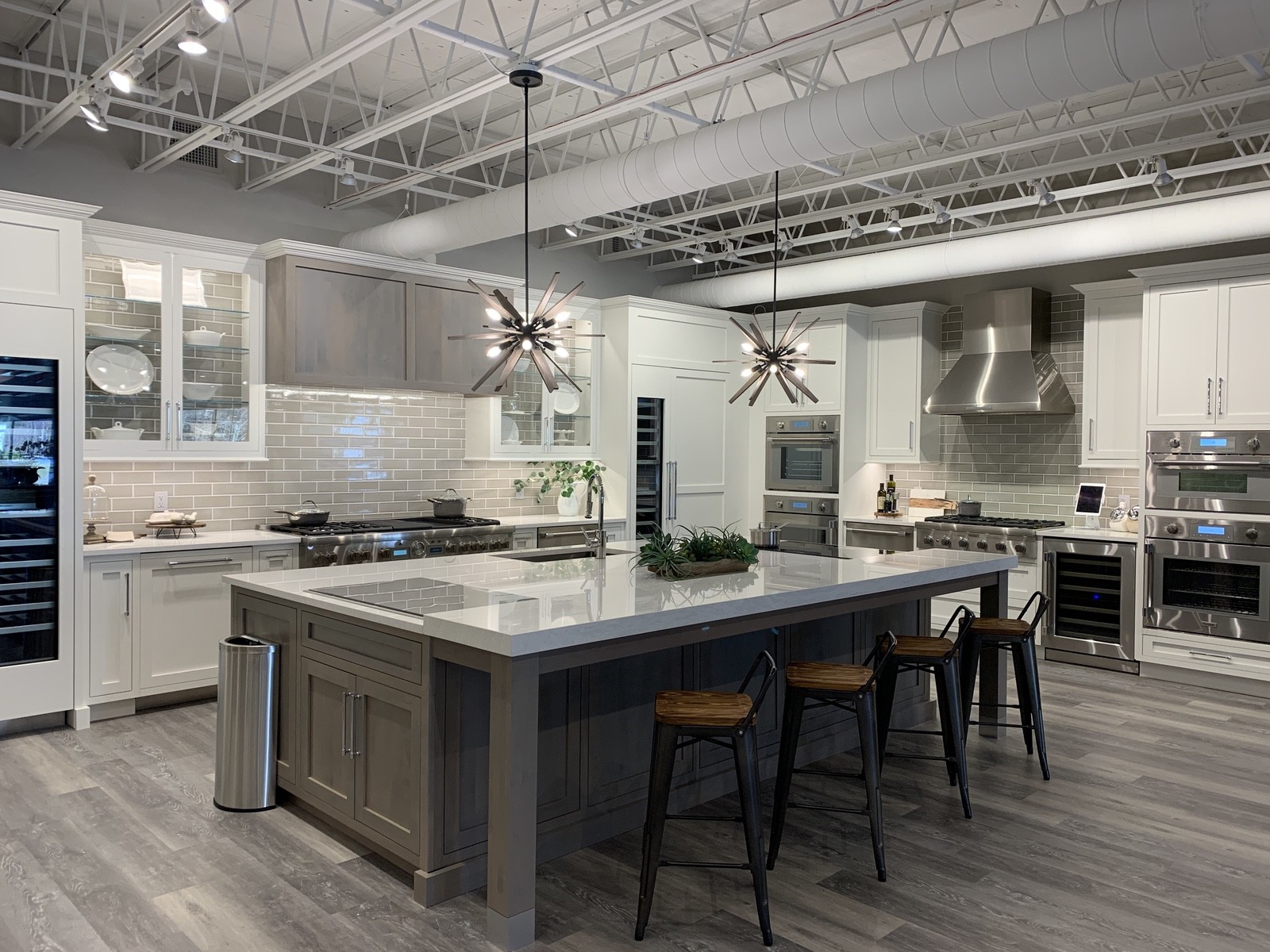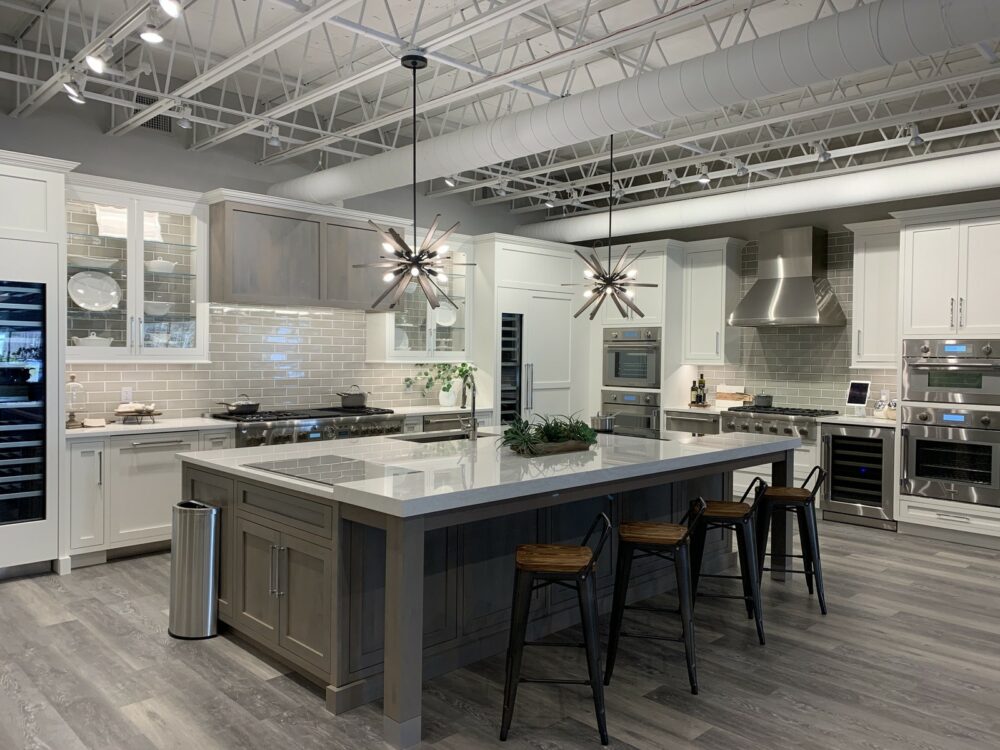 ---
Wolfers Lighting
When you need to light up an office or living space, then Wolfers Lighting is the local expert to visit. The team is proud to be known as the best lighting resource in the Greater Boston area. The group focuses on the perfect combination of quality products, industry trends, and modern technologies to create a custom lighting plan for your space.
This lighting showroom is not only available for individual homeowners and business owners, but they also provide services to support trade professionals: interior designers, architects, builders, and electricians. Visit the showroom to experience a lighting lab, showcasing how different lighting products integrate with your home, office, or store.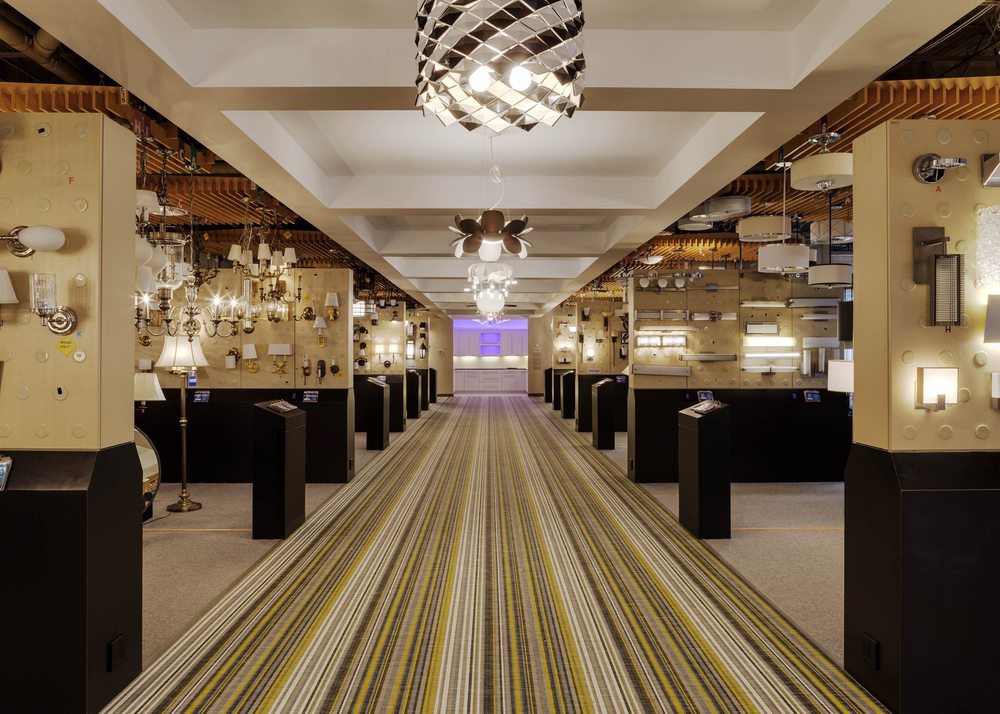 Showroom
Waltham
1339 Main Street
Waltham, MA 02451