Despite the typically small size of a galley kitchen, when designed optimally, these spaces can be ergonomically clever and highly efficient. With the right design, galley kitchens can become the perfect space. This blog will review some innovative features and galley kitchen design ideas to inspire you – whether you have a new build or a renovation.
---
What is a Galley Kitchen Design?
A galley kitchen is a long and narrow kitchen typically featuring base cabinets, wall cabinets, and counters on one or two sides of a central walkway. The name "galley" derives from the similarity to a kitchen on a ship, sometimes called a galley. A galley kitchen provides an effective solution for homes with minimal space or for a home that's long but lacks width. Galley kitchens tend to be less expensive to build or remodel than other kitchen layouts.
The right galley kitchen design can enhance ergonomic efficiency by clustering key features. Special considerations include designing elements to scale. For example, standard-sized appliances avoid overcrowding in a galley kitchen.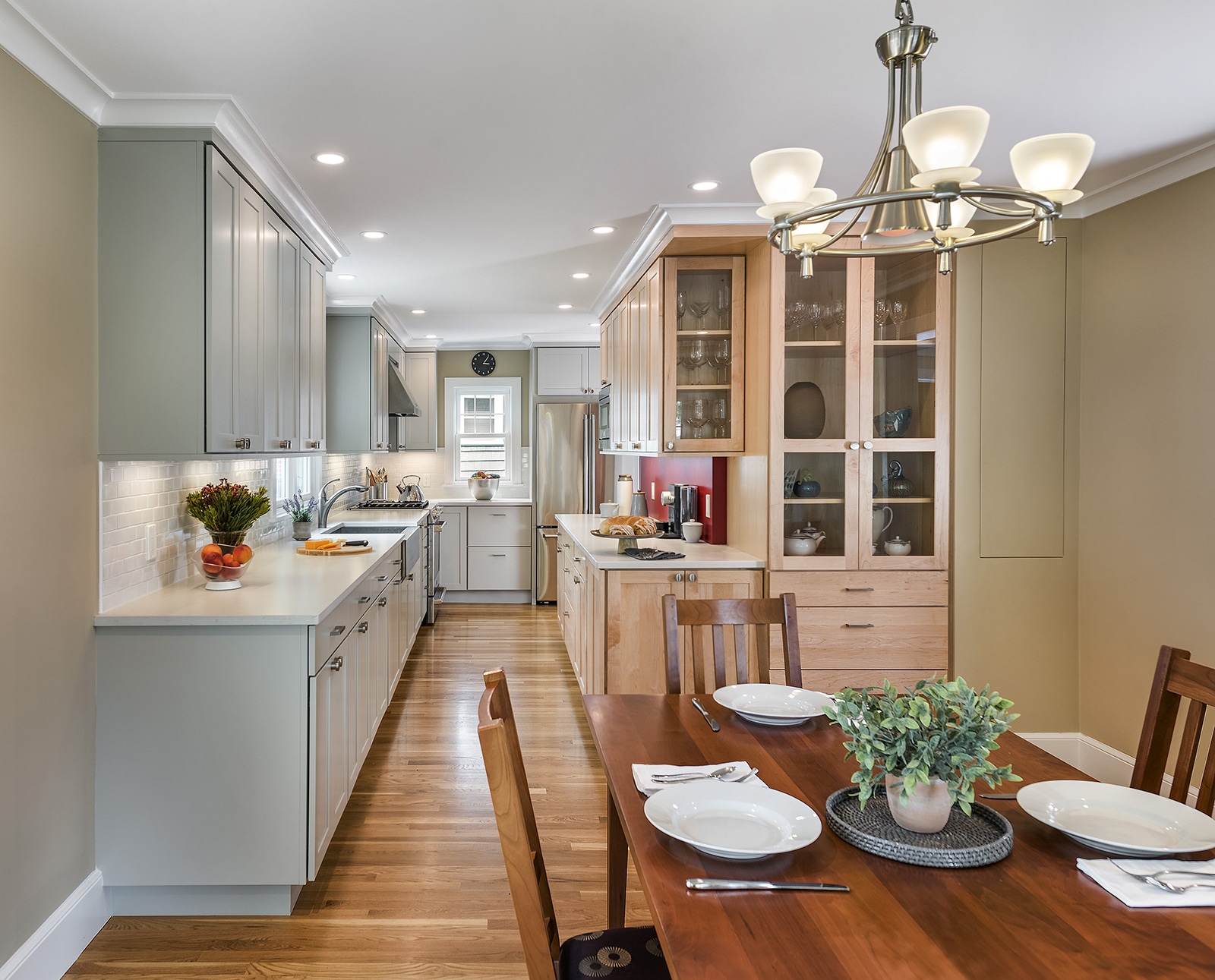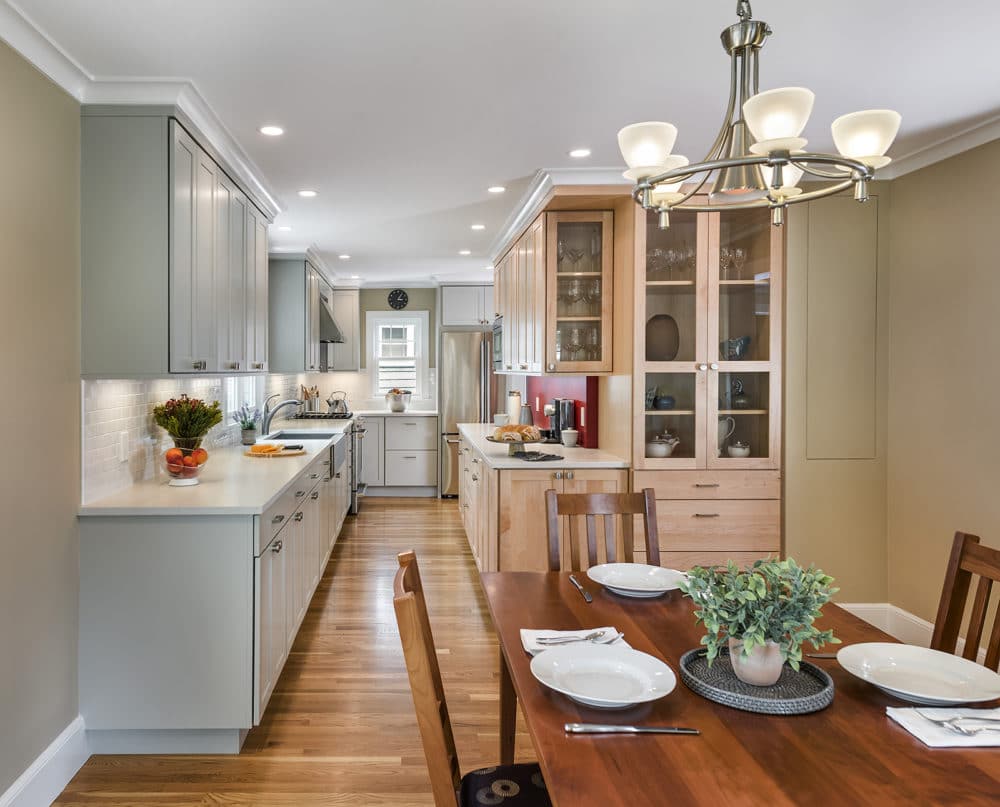 ---
Galley Kitchen Design Ideas
Looking for some inspiration? Let's review some galley kitchen design ideas below.
Flooring
When flooring a galley kitchen, carefully consider its visual impact. For example, if the kitchen is dark, contrasting lighter flooring will open up the space and make it appear more light and airy. You can also consider the following flooring options for a galley kitchen:
Patterned tiles
Adding patterned tiles to a galley adds dimension and visual interest to a smaller space.
Light-colored hardwoods
Choosing lighter flooring color palettes is a guaranteed success factor in opening up your galley space. Opt for choices such as whitewashed planks, birch, bamboo, oak, or other blonde woods to brighten the room.
Large flooring tiles
If the square footage in your kitchen is on the lower end, one way to make the space appear bigger is to opt for large flooring tiles. Larger tiles create an illusion of length and depth, which is particularly beneficial for smaller areas.
Diagonal tiles
A diagonal layout creates a lengthened effect and is also the perfect way to elevate your tiling. Choose from prefinished wood, bamboo, laminate, or luxury vinyl options.
Lighting
Lighting is vital for any home area and can make all the difference in enhancing your galley space. Here are a few lighting options to consider:
Light fixtures
Strategically place your light fixtures to create an illusion of more space, such as lanterns and chandeliers.
Accent lighting
Consider accent lighting to spotlight your favorite spaces and create the illusion of more depth. Track, recessed lighting, and wall-mounted fixtures are ideal for accent lighting.
General or ambient lighting
This type of lighting provides an even wash of light that you can dim for added atmosphere. Recessed, track lighting, and wall-mounted fixtures all provide ambient lighting.
Consider a white paint scheme
A white paint scheme can make a small space look more prominent in a galley kitchen.
Cabinets
Many galley kitchens need lots of cabinets for storage, which lets you clear space on counters and open spaces. Consider the following cabinet designs for your galley kitchen.
Cabinet placement
When there's tight space, you must strategically consider cabinet placement. If your galley kitchen has high ceilings, use this to place cabinets upwards to create more storage.
Cabinet functionality
Before selecting your cabinets of choice, consider their function. For example, if you intend to use cabinets to cram miscellaneous items, avoid glass cabinets.
Cabinet aesthetic
Cabinets aren't just for storage. If you want to show off your most delicate dishware or ornaments, consider glass-paneled cabinets, which will double as décor.
Backsplash
You can elevate even the most basic galley kitchen with the right, eye-catching backsplash. Here are a few backsplash design considerations to bear in mind:
Blended backsplash
A blended backsplash tile blends well with the kitchen cabinet color and doesn't compete with other features in the kitchen.
Backsplash materials
Carefully consider your backsplash material depending on the type of look you want to create. For example, stainless steel creates depth, and a sleek look— patterned tiles add decoration, and a white backsplash makes a small space look bigger. If you want to add some extra layers to your galley kitchen design, a mosaic kitchen backsplash is a perfect choice.
Storage
Clever storage is essential in galley kitchens. You don't need to keep appliances and other items on the countertops. The right storage opens up space and makes the kitchen look cleaner. Browse some galley storage options below:
Open storage
This can do wonders for giving a galley kitchen a space-enhancing flow while simultaneously providing practical, off-the-ground storage.
Floating shelves
The perfect way to merge practical storage with minimal installation, floating shelves are a popular option for many galley kitchens. Floating shelves also add a classy touch to displaying decorative pieces.
Choose your cabinets wisely
When designing your galley kitchen, plan your cabinet storage precisely.
Open shelves need to be kept neat.
Deep drawers are better than base cabinets for storage.
Wall cabinets should be as shallow as possible to prevent your kitchen from looking narrow.
Hidden storage
This creates extra storage and also works to conceal clutter. Secret storage ideas include pull-out pantries, layered shelving, hidden appliances, and backsplash shelving.
Seating
Many galley kitchens don't have enough space to incorporate a fixed seating area. Instead, you can aim to include one of the following seating arrangements:
Versatile portable island
Easily construct and deconstruct your seating arrangements with a mobile island – which you can disassemble at your convenience.
Built-in table
These tables easily blend with any galley space, allowing easy access to dining arrangements.
Bar-height dining table
Allows you to make the most of the space, functioning as a neat seating arrangement.
Appliances
Galley kitchen appliances ideally serve a dual purpose – both functional and aesthetic. Functionally, appliances need to allow for a reduction in storage. Aesthetically, appliances need to enhance the galley space. Let's take a look at some galley kitchen appliances below:
Bottom-Freezer Refrigerators
These tend to have the most storage space among all refrigerator configurations and add efficiency to your galley kitchen.
Modular Cooking Appliances
Modular kitchen appliances are integrated and built-in with the kitchen cabinets. This feature improves the ergonomic space saving of any galley kitchen.
Drawer Dishwashers
The slide-out features of these dishwashers clear up more space, and their modular design allows for more efficient operation.
An Appliance Garage for Smaller Appliances
Galley kitchens can benefit from an "appliance garage," which can house portable appliances such as blenders, coffee makers, toasters, and waffle irons. Appliance garages allow for convenient storage without wasting valuable counter space.
---
Galley Kitchen Design Ideas
Although galley kitchens often lack space, there are countless ways to configure the layout to give the illusion of a bigger space. Let's explore some of these options below:
Orientation of fixtures
Flooring parallel to the kitchen walls can create an illusion of a more extended kitchen. Orient your kitchen backsplash material in the opposite direction of your flooring to create the illusion of depth and height.
Light and neutral colors
Keep your galley kitchen's color scheme light and bright. Lighter colors make spaces more spacious, while darker tones can make a room cramped and claustrophobic.
Floor-to-ceiling cabinetry:
Floor-to-ceiling cabinets are a great way of streamlining your kitchen and increasing valuable storage capacity.
Internal cabinetry organizers
Organize your cabinets with cutlery dividers, spice racks, trays, and roll-out shelves.
Discreet appliances
Make appliances disappear by hiding them behind appliance panels designed to mimic the look of your chosen cabinetry.
Simplicity
Keep your cabinets, appliances, and finish selections simple and clean to create the impression of a larger space.
---
Feature Galley Kitchen Projects
Look no further if you're looking for inspiration for your galley kitchen project! The Feinmann team has built, designed, and renovated many galley kitchen projects: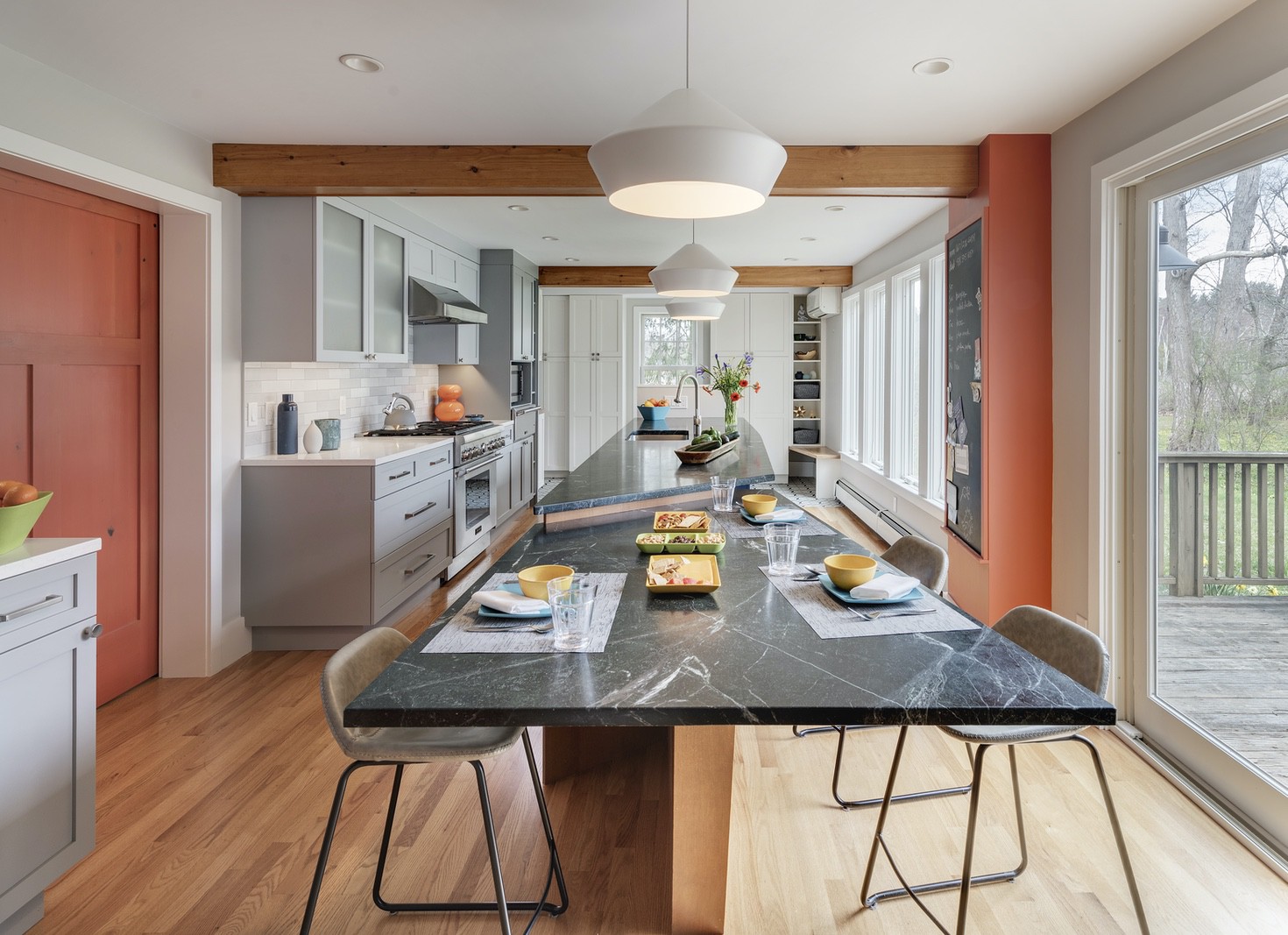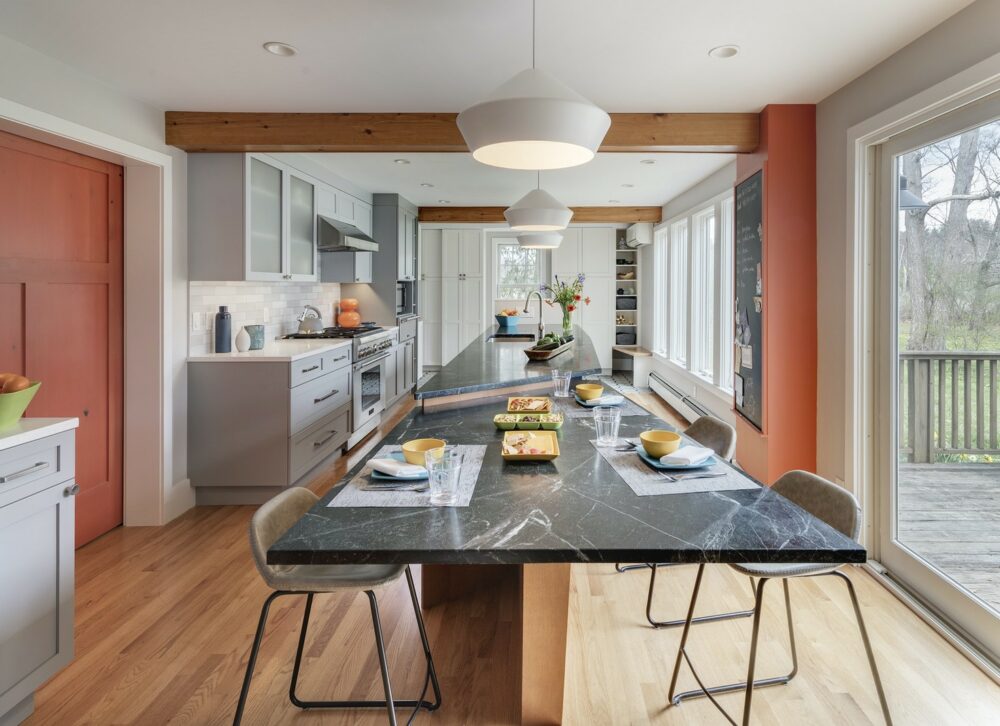 Playful Arrangement
Feinmann provided a creative solution by reconfiguring the homeowner's space and building a galley-style kitchen. The kitchen features a grand island with six seats and ample storage. The team used a colorful, bright palette on the walls and fixtures to make the space appear more spacious. The team added windows in the kitchen that joined the indoor and outdoor spaces. These windows create a sense of connection and playfulness.
Learn More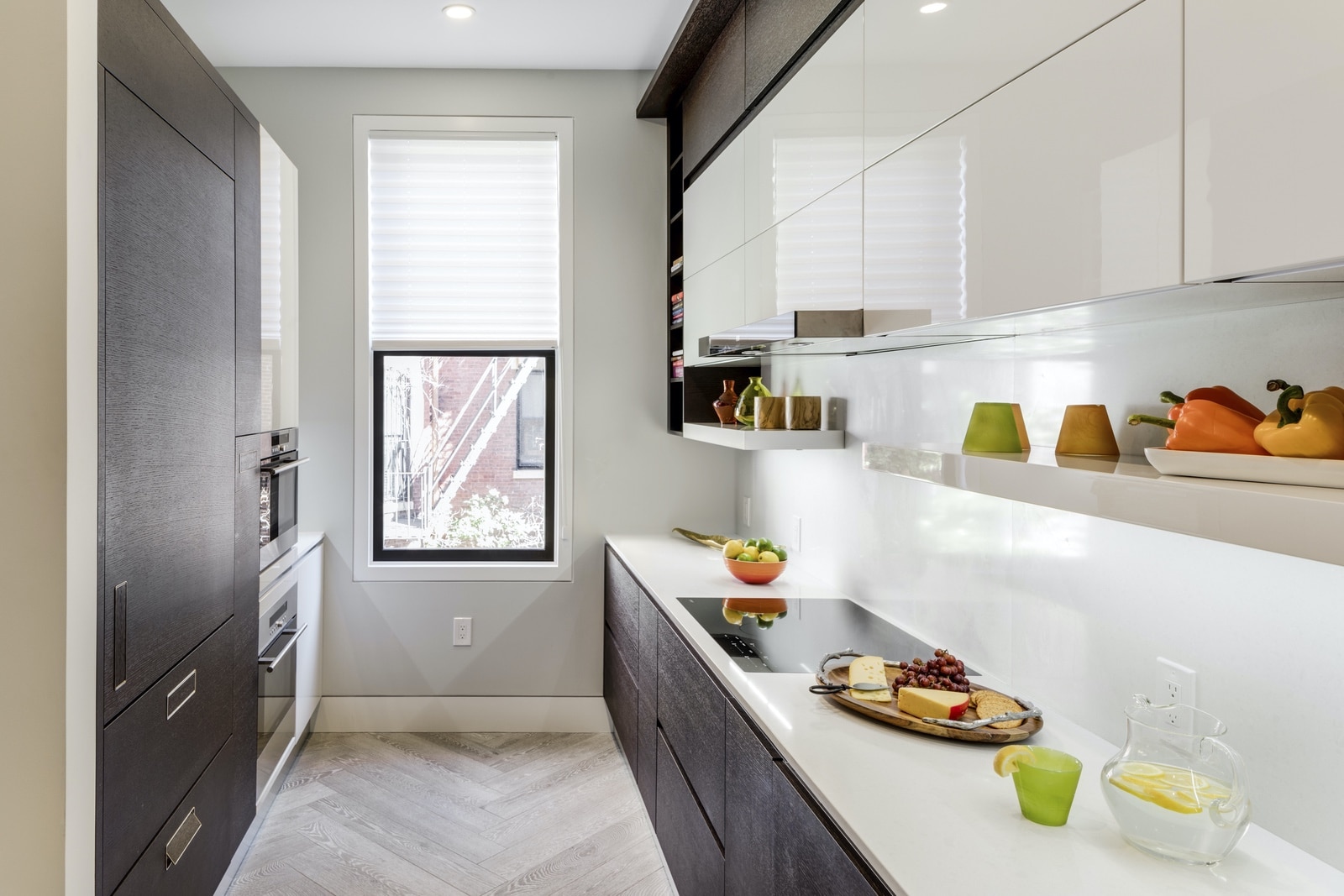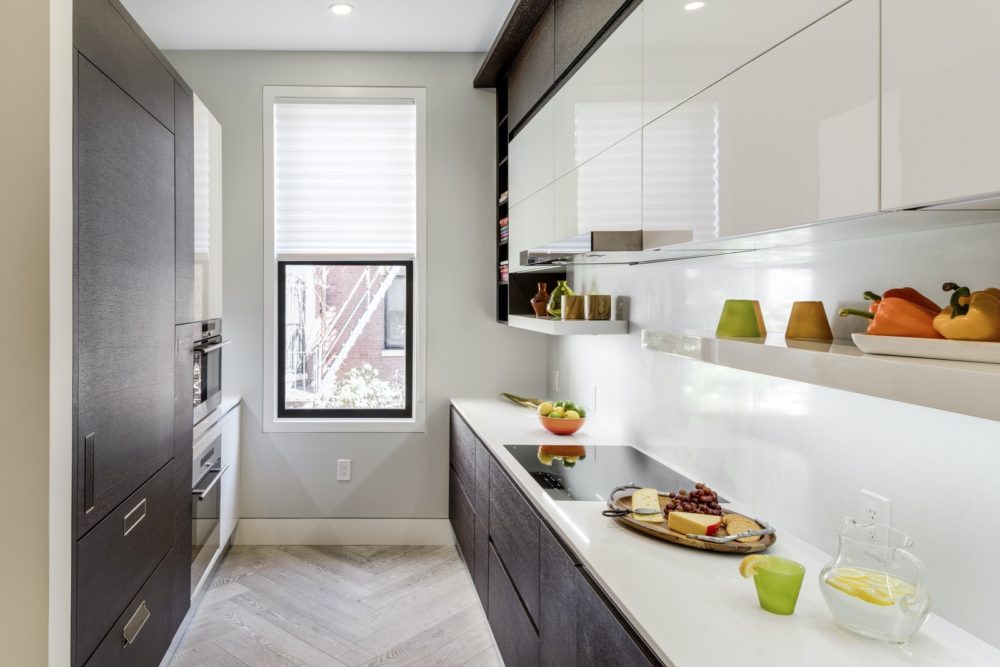 Glossy Galley
The Feinmann team transformed a long, narrow condominium kitchen into a glossy galley for this project. To brighten the space and give the illusion of more depth, Feinmann installed white lacquer cabinets. To anchor the room, the team incorporated contrasting lower cabinetry in Tobacco Glazed Oak veneer. They also added concealed features, such as a refrigerator, pantry, stacking washer, and dryer, to provide added surface space. To open up the galley further, the team raised the cabinetry height for added storage, taking advantage of the high ceiling.
Learn More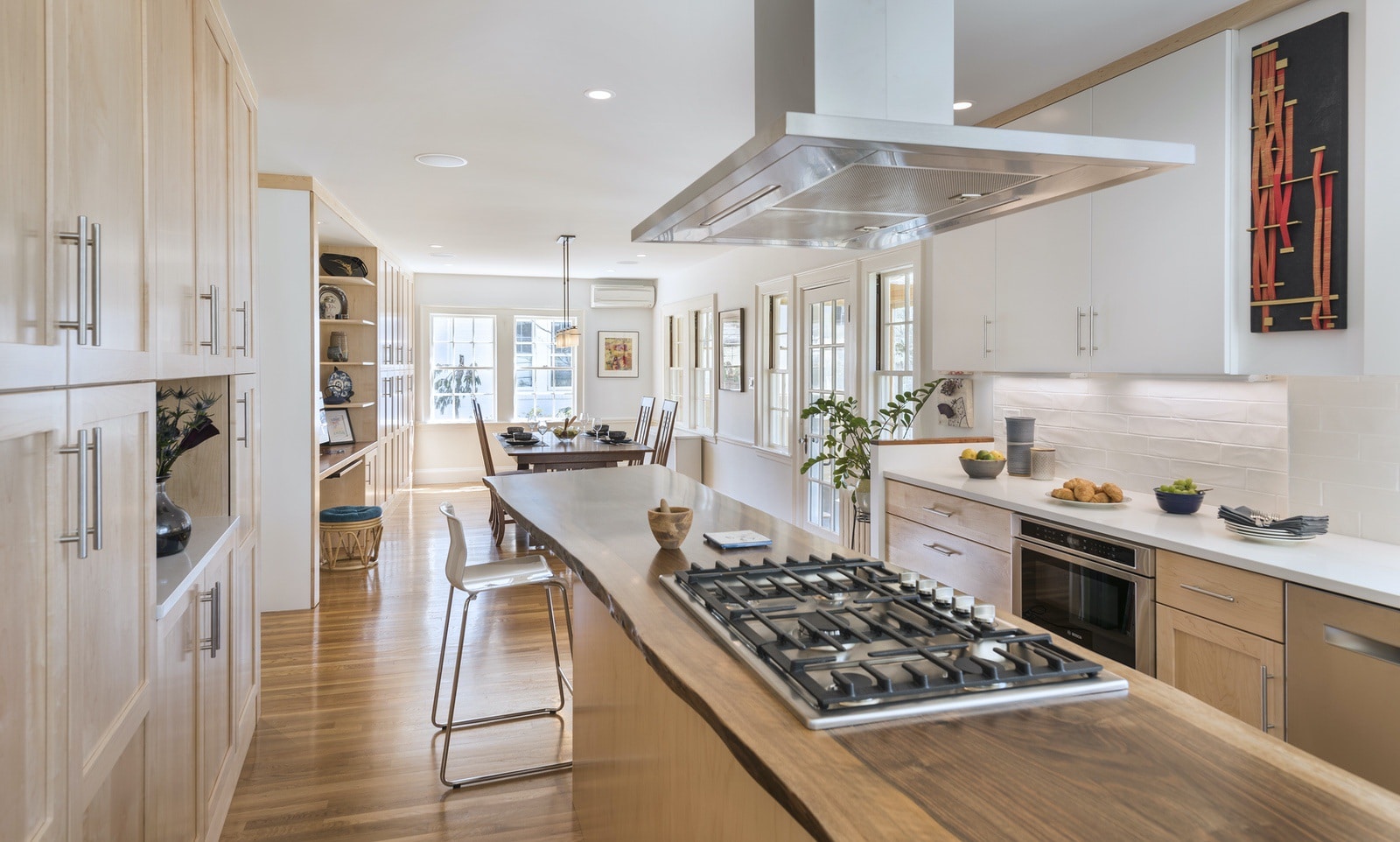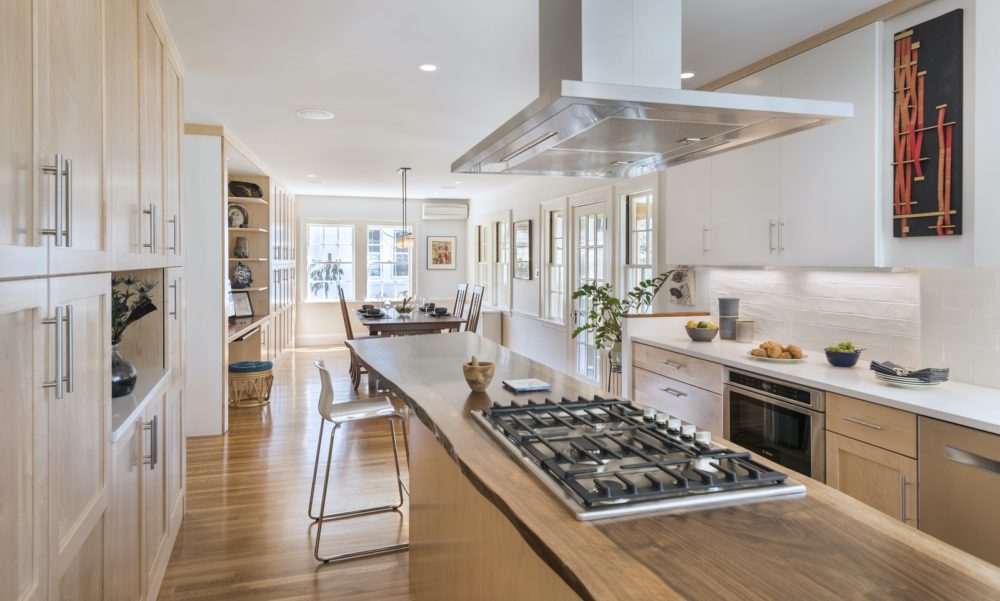 Hosting Haven
The homeowners of this Newton property wanted a new kitchen that allowed for entertaining and gathering of friends and family. They also wanted to transform their cramped kitchen into a spacious galley with additional prep, storage, and pantry space. The Feimann team opened up the house by combining the kitchen and dining room and moving the half-bath.
The team got to work on a newly polished space featuring natural maple cabinets, white Caesarstone counters, and a backsplash of matte white tile. These color choices create a monochromatic, modern appeal allowing the main feature of the space to shine: a live edge island made of walnut. The team also finished the room with a functional hosting haven, including a built-in desk, display shelving, and a beautiful dining space.
Learn More
Conclusion
We hope our galley kitchen design tips have inspired you. If you would like to learn more about how the Feinmann team can help you with your home goals, reach out to us today.