A four-season sunroom combines warm natural light and outdoor views with interior comforts, bridging the gap between indoors and nature. It's a place of calm and tranquility in an often chaotic world. In this article, we'll explore the benefits of a four-season sunroom, as well as offer design ideas, explore our favorite sunroom projects, and more.
---
What Is A Sunroom, and What Is A Four Seasons Sunroom?
A sunroom can essentially be defined as an enclosed porch. However, in reality, sunrooms serve far more functions. In general, people set sunrooms up comfortably with couches and lounging space, much like a living room or family room. Sunrooms can be used multi-purposefully: from hosting, to dining, to basking in the sun with a good book. Sunrooms are typically constructed from all glass windows or doors so that you can experience the feeling of being outdoors. A four-season room is a sunroom enclosed with glass, allowing for breathtaking floor-to-ceiling views of the outdoors. Consider a four-season sunroom if you are looking for all-year-round usage. The roof and frames of sunrooms are thermally engineered, serving both heating and cooling functions. This feature allows you to enjoy the sunroom year out – regardless of the season. Fully equipped to deal with cold winter temperatures, four-season sunrooms feature double-glazed glass with high energy efficiency. Four-season sunrooms also come with thermally-engineered frame options. These frames allow the room to be heated and cooled cost-effectively, year-round, regardless of your climate.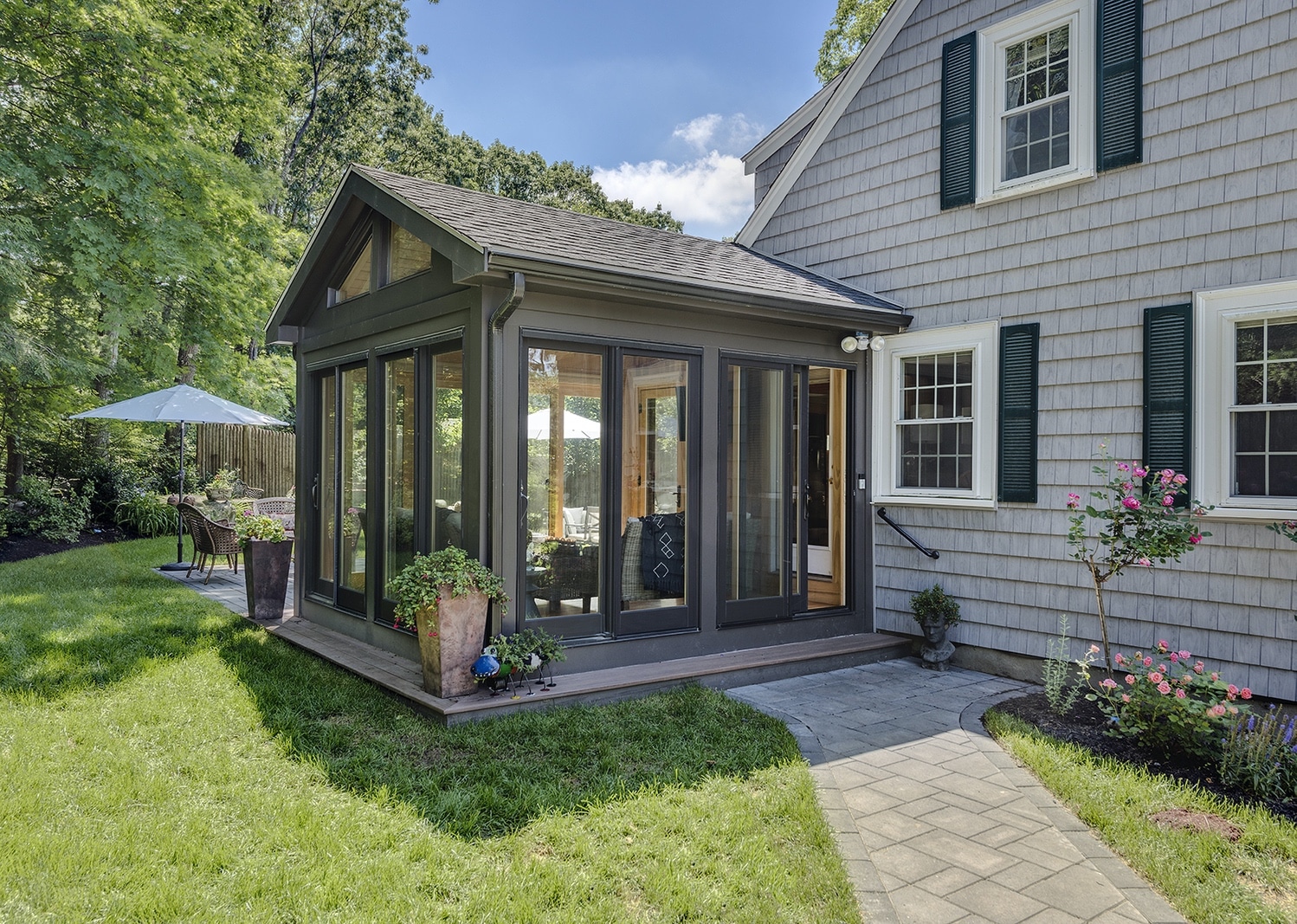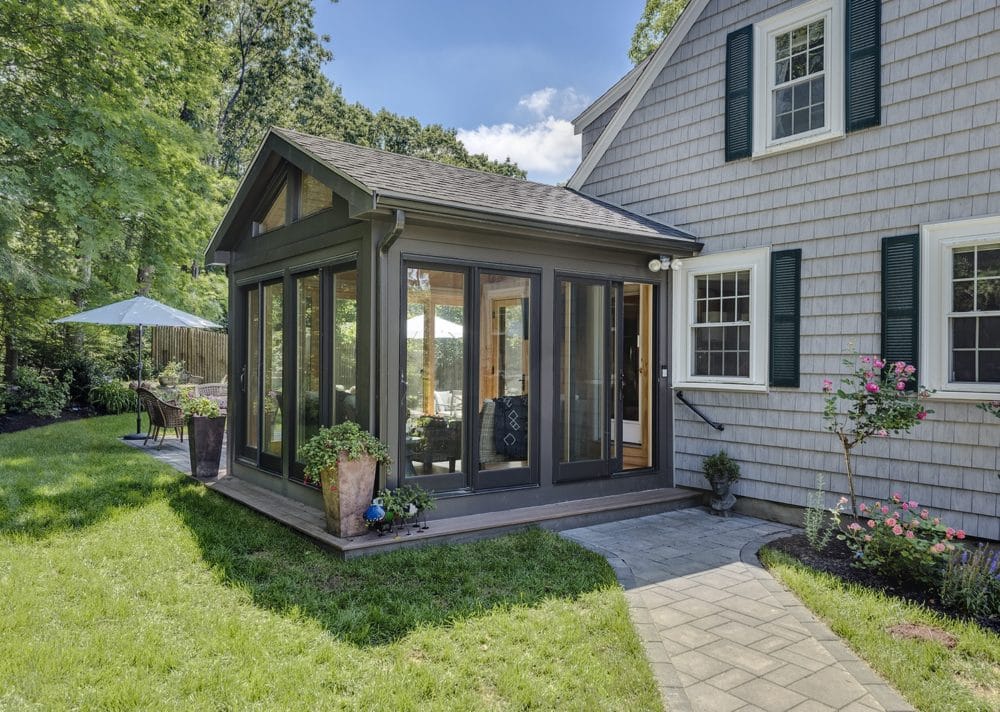 Photo credit: A Charming, Rustic Four-Season Room designed and built by Feinmann
---
The Benefits of Adding a Four Season Sunroom to Your Home
The benefits of a four-season sunroom are countless. And, it provides the perfect backdrop to enjoy the serenity of nature without having to worry about its inconveniences! You have most likely experienced an outdoor gathering hindered by the elements: from buzzing flies in food to paper cups blowing away to unpredictable rainfall. Sunrooms provide the perfect solution to this while also giving you an outdoor experience. You'll remain warm, comfortable, and relaxed in the comfort of your sunroom. Not quite convinced yet? Well, let's explore some additional sunroom benefits:
Versatility
The beauty of a sunroom lies in its versatility. You can use this space for many activities:
Relax and take in nature while being protected from the elements.
Use the space as a sanctuary for reflection and meditation.
Enjoy a cup of tea or coffee with a good book.
Set up a work-from-home space that gives you the benefits of natural light.
Gather family and friends for hosting events.
Create a green space for plants, birds, and even fish ponds.
Curb Your Electricity Bill
With a sunroom, you will use little electricity as sunlight will flood the area for hours on end. Utilizing your sunroom as a personal or family space for indoor activities means you can reduce your use of artificial lights significantly. Plus, you'll be contributing towards a more environmentally sustainable home.
Enjoy the Health Benefits of Sunlight Exposure
People often don't get outdoors enough to benefit from sunlight. Although too much sun exposure can be harmful, getting adequate sunlight is essential for good health. Studies show that exposure to sunlight increases the brain's release of serotonin. Serotonin is associated with boosting mood, helping a person feel happy. So relax in your sunroom while experiencing some mood-boosting sunlight exposure!
Extra Space For You to Enjoy
It's common to feel like your house is overcrowded, especially if you are growing your family or simply accumulating more belongings. If this is true for you, now may be the time to add a sunroom to your home. On top of additional space, a sunroom provides the extra benefit of acting as a separate getaway space.
Host in a Great Space
If you enjoy hosting friends and families, a sunroom may be the perfect place to do so. No matter the occasion, a sunroom is an ideal place to entertain. You'll have the opportunity to share your beautiful space with your closest friends, loved ones, and relatives.
Create A Sanctuary For Your Plants
A sunroom creates the perfect environment for your plants to live and soak up the natural sunlight. Here, your plants can have access to plenty of sun, even in the winter. The glass walls of a sunroom trap the heat and create a warm atmosphere for your plants.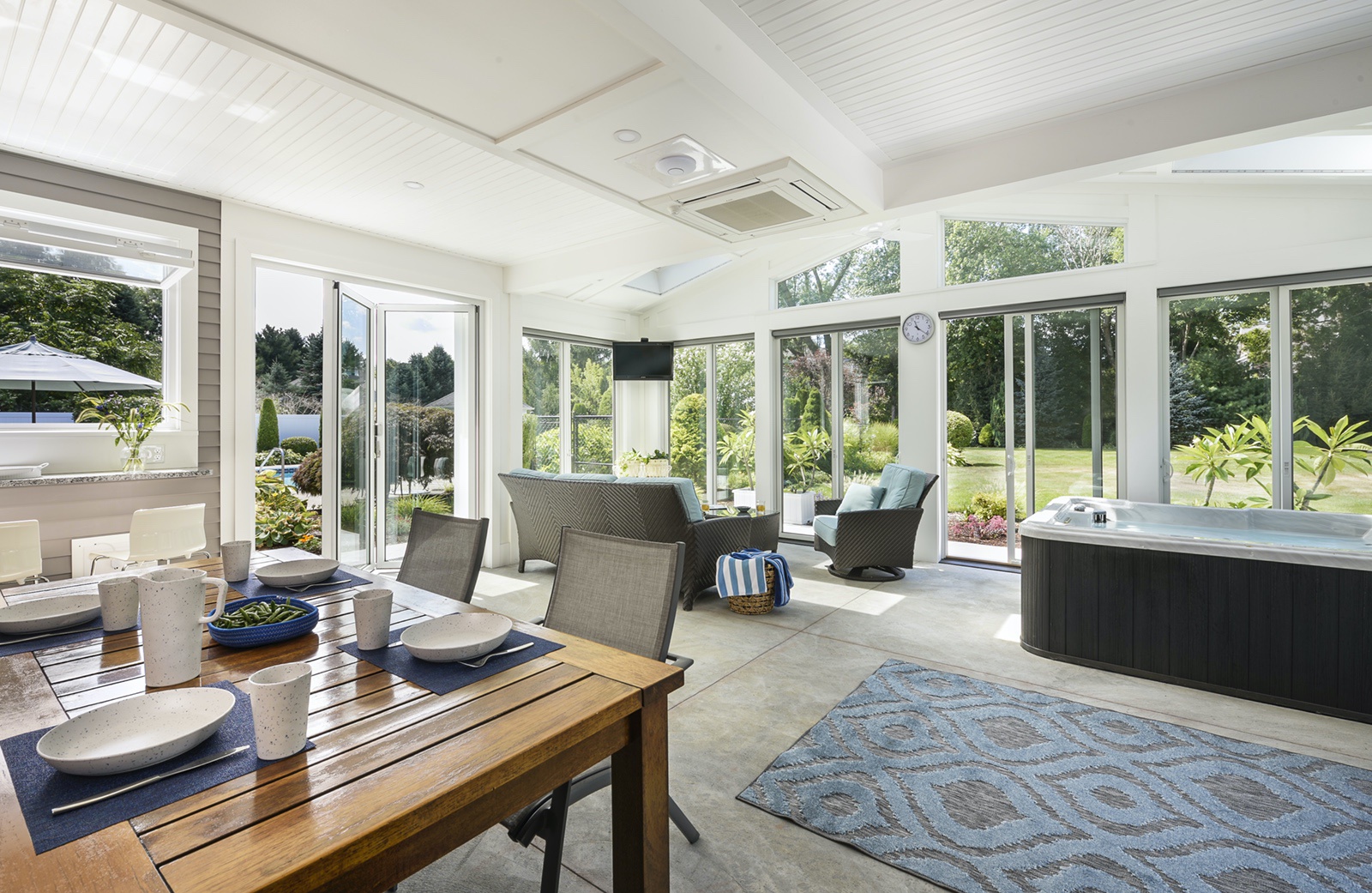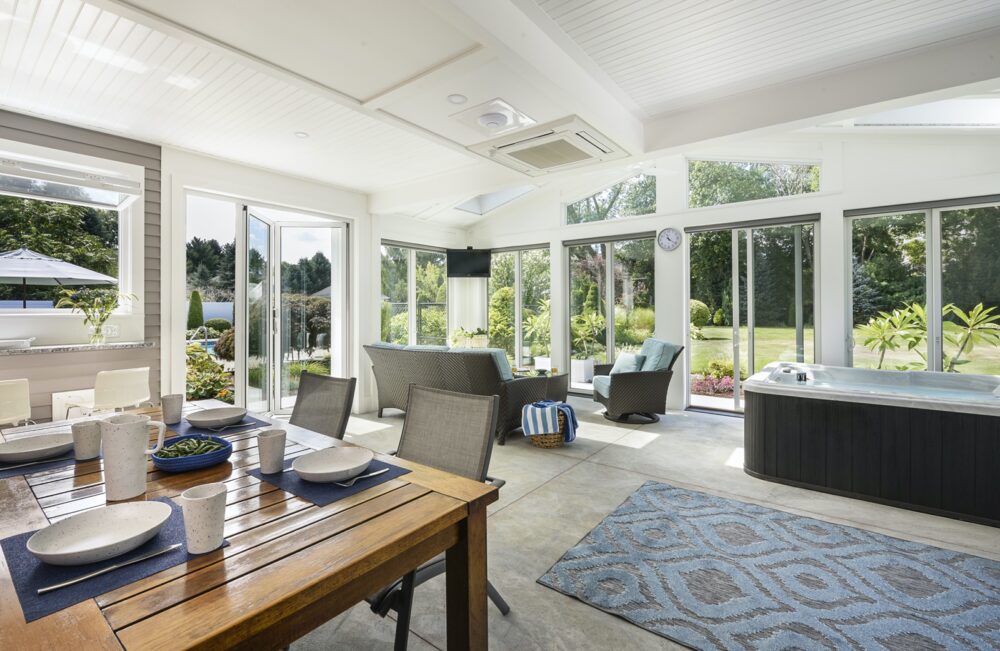 Photo Credit: Endless Summer designed and built by Feinmann
---
Beautiful Sunroom Design Ideas
If you're feeling inspired to design your sunroom to make it even more beautiful, we're here to help! First, consider how you plan to use your sunroom. For example, if your sunroom's primary function is hosting, focus on finding a statement piece table for dining. If you prefer your sunroom to be a tranquil sanctuary, consider a hanging rattan chair or some seating pillows. If you plan to use your sunroom at night, consider ambient lighting for a cozy glow. Let's explore some sunroom design ideas:
A Cozy Sunroom
Make your sunroom feel snugger by decorating with plush throw pillows, potted plants, and a coffee table. For cozy sunroom furniture, consider a sectional sofa that will facilitate relaxation.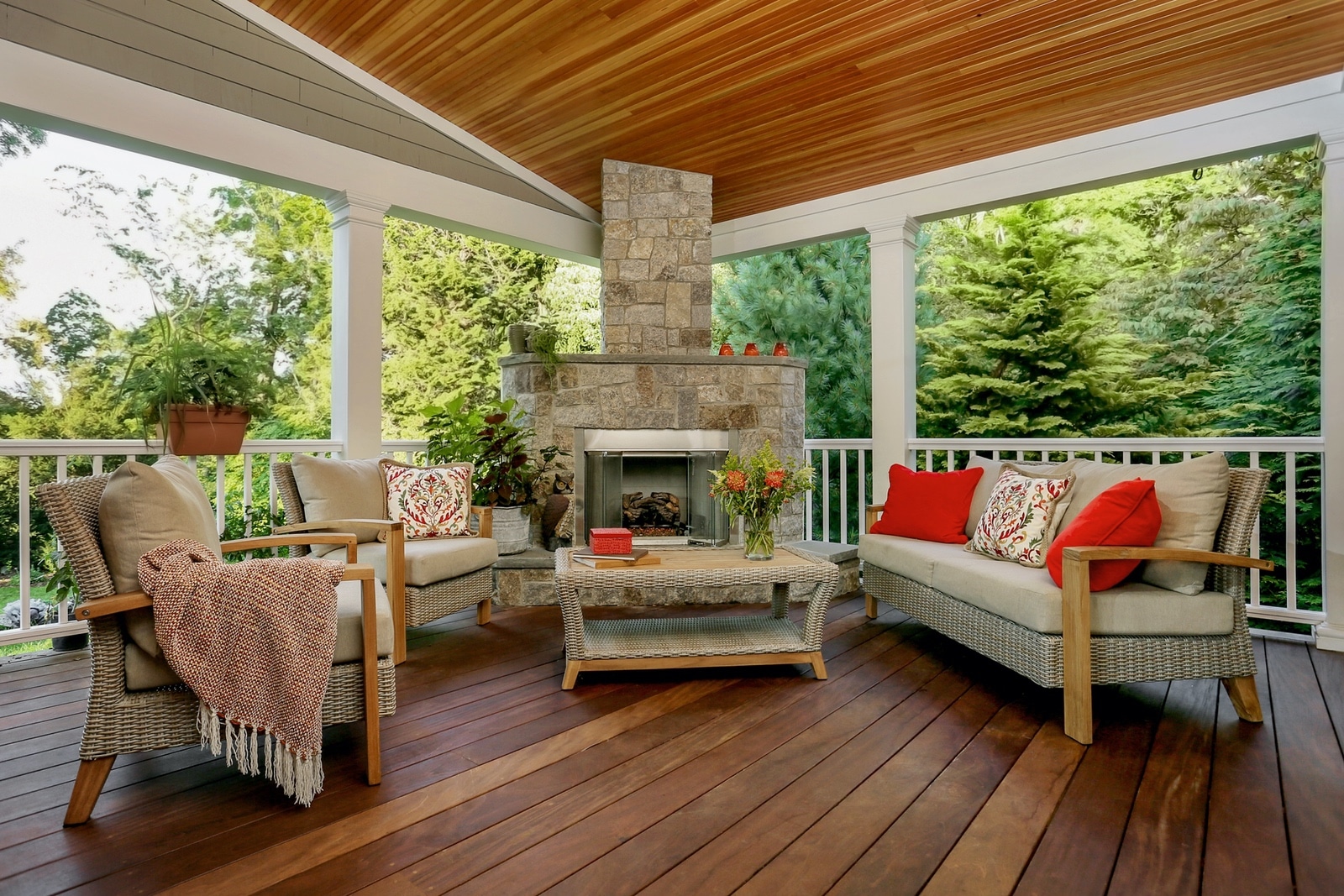 Photo Credit: Expansive Porch design and built by Feinmann, Inc.
A Modern Sunroom
If you're looking for a modern sunroom, choose sleek furnishings made from contemporary materials such as blonde wood and painted metal. Keep the color palette neutral and understated, with a few pops of color from pillows and statement pieces.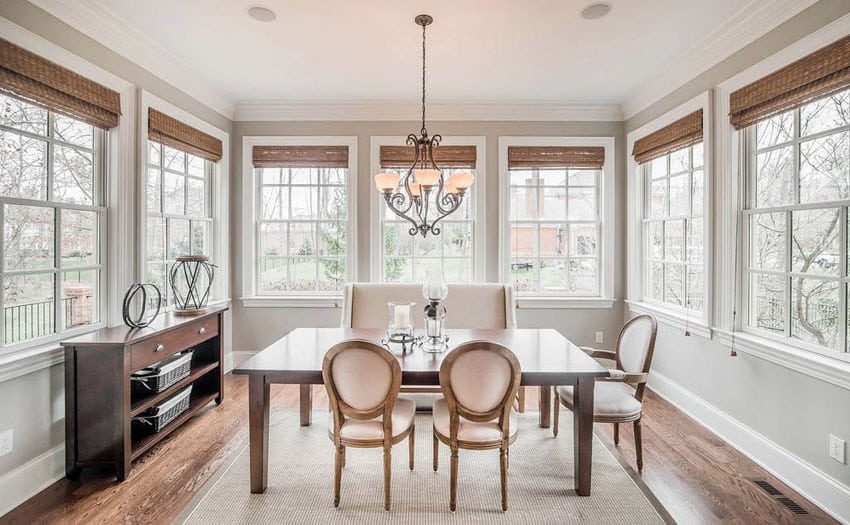 Photo Credit: Designing idea
A Traditional Sunroom
If you prefer a more classic and understated design, a traditional sunroom is a perfect choice. Invest in classic furniture lines and patterns and decorative accents, including a chandelier, which will give the space a touch of class.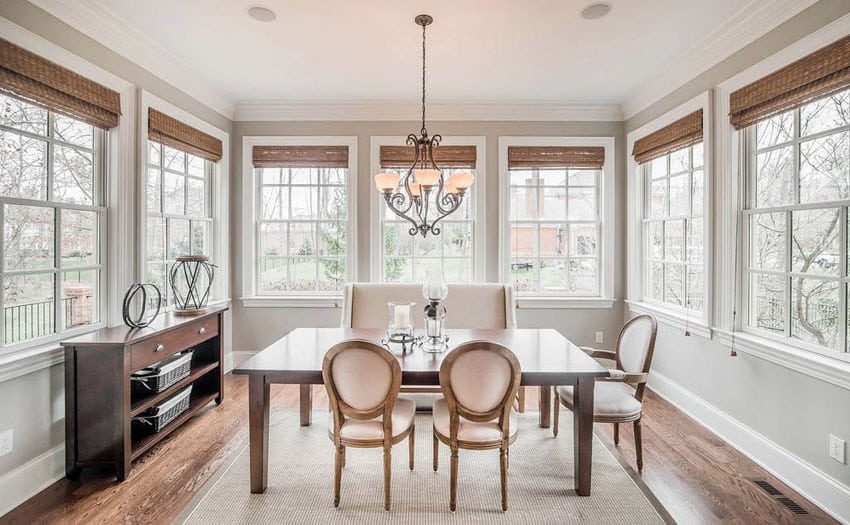 Photo Credit: Designing idea
A Bold and Bright Sunroom
Try a bright and bold design if you're looking for something a little more exciting. Think eclectic grouping of textured pillows, bold geometric rugs, and statement furniture.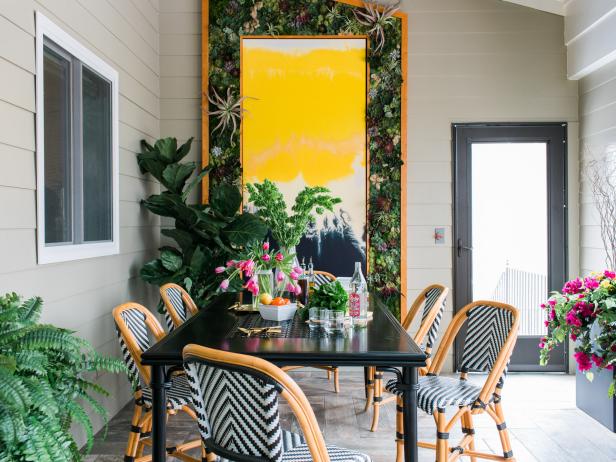 Photo Credit: Pinterest
---
Inspiring Sunroom Projects
Feinmann has helped to create and remodel several spectacular sunroom projects. Let's take a look at some of them:
Feinmann transformed this once worn-out, screened-in porch into a light-filled, four-season sunroom. The new space features stunning, knotty pine floors and a vaulted ceiling, creating a rustic charm that blends seamlessly with the outdoors.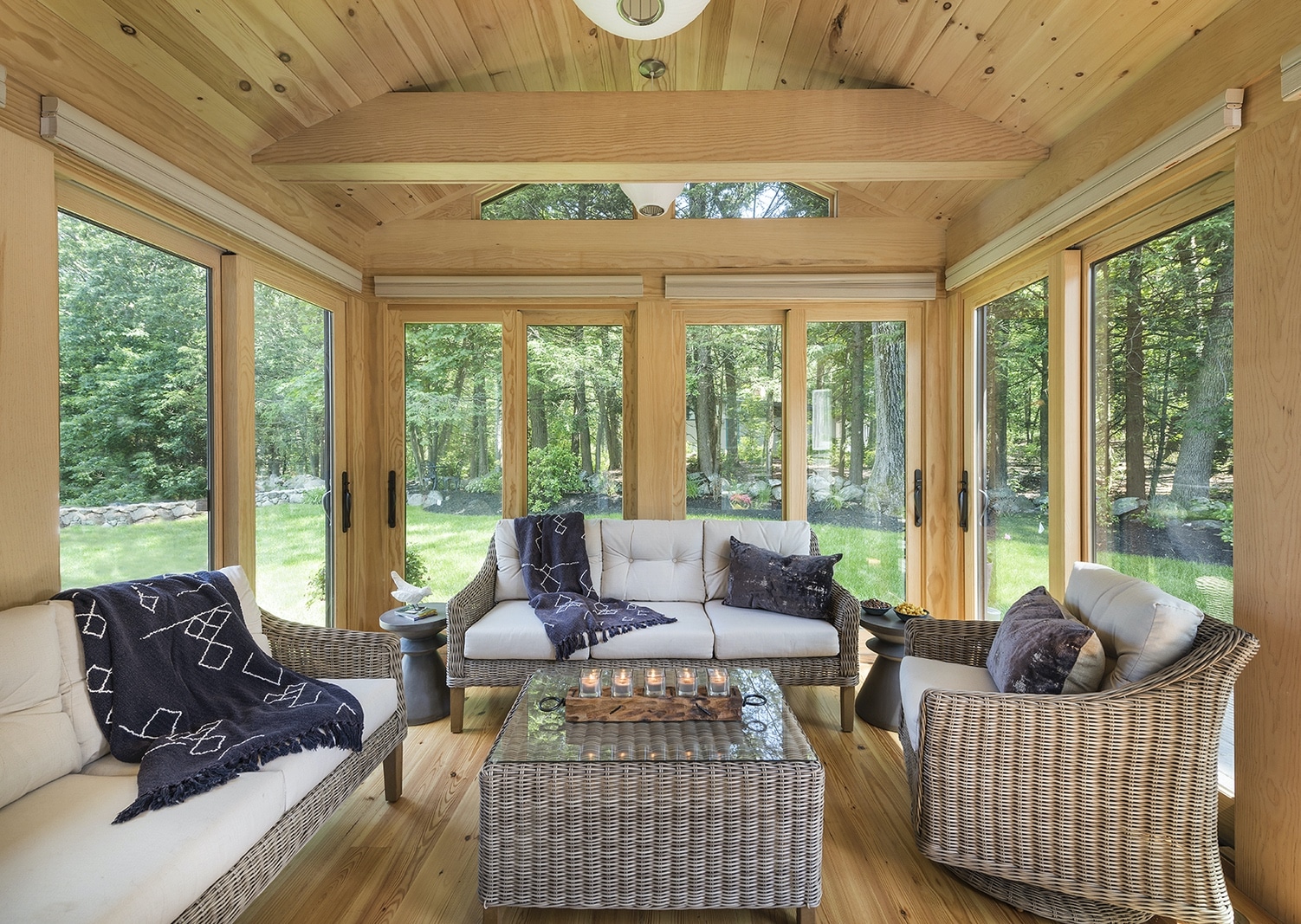 Photo Credit: A Charming, Rustic Four-Season Room designed by Feinmann
Feinmann created the ultimate outdoor and indoor living experience by designing a 600 sq. ft. sunroom addition that naturally integrates with the client's home's architecture and aesthetic. We used innovative technology like electric venting skylights and solar window shades that can be automated and controlled by your voice. We also added concrete flooring that is eco-friendly and worry-free from spills, pets, and weather.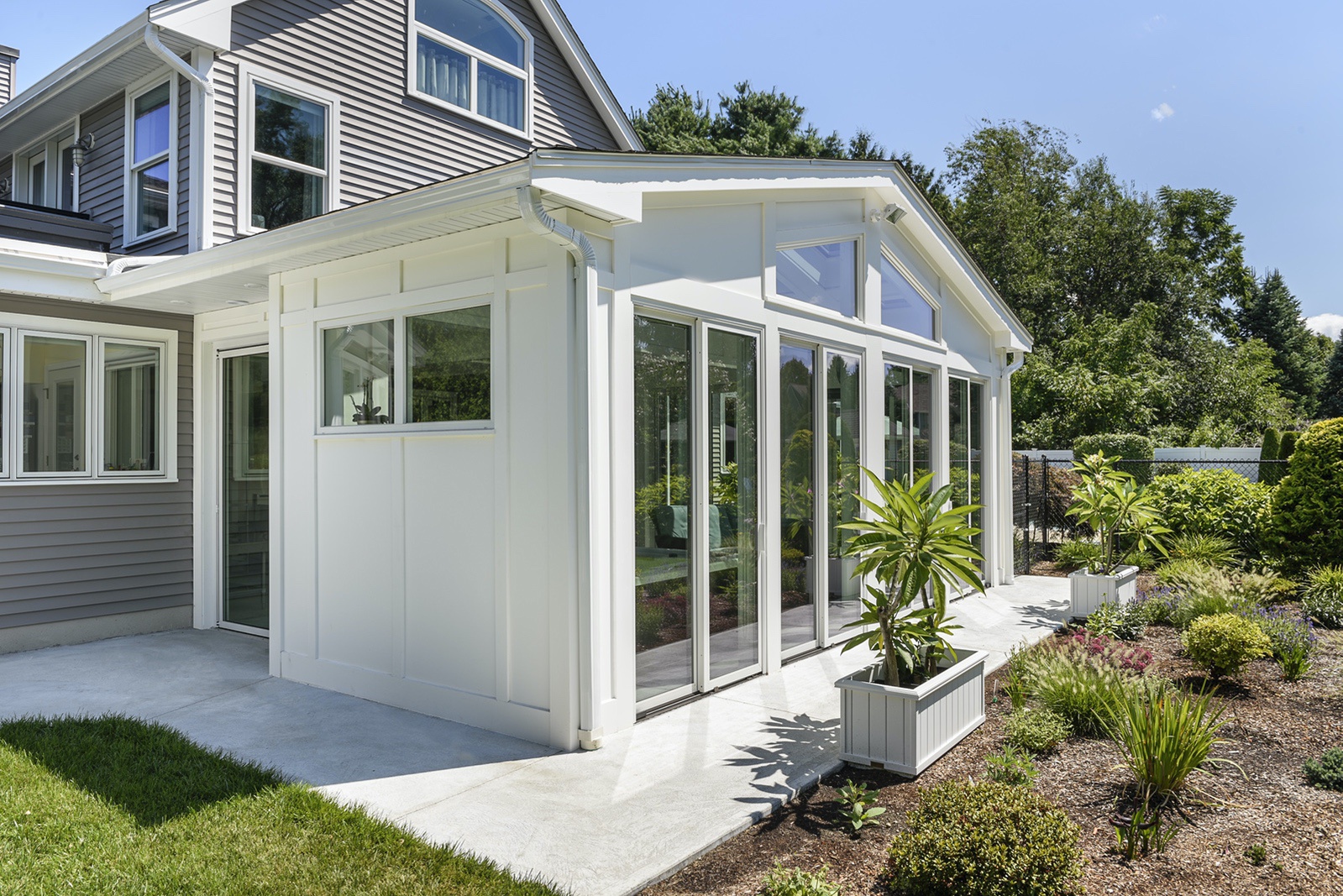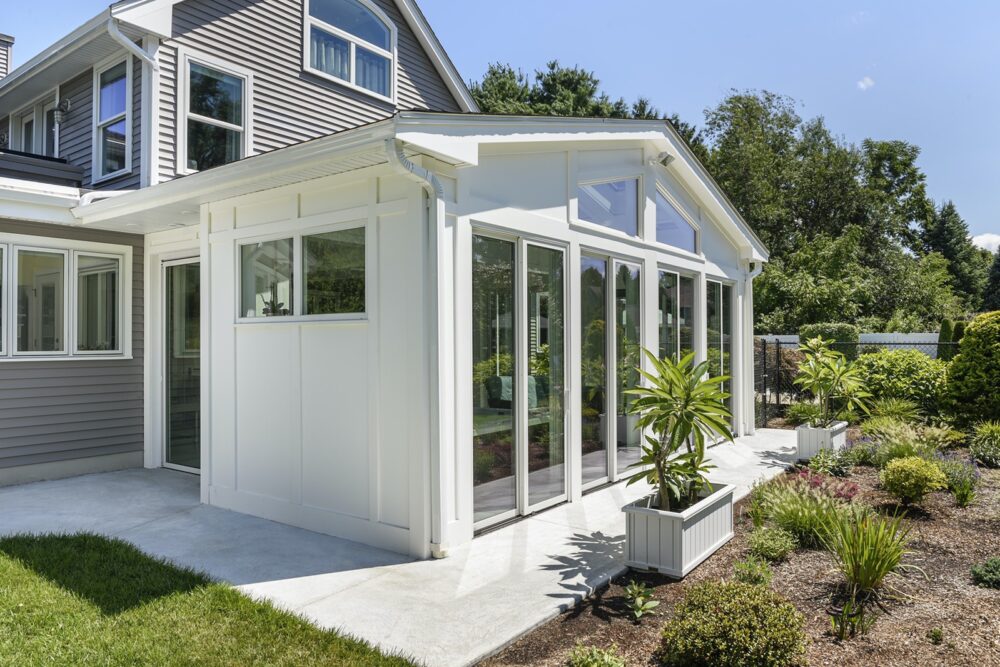 Photo Credit: Endless Summer designed and built by Feinmann
Past clients of Feinmann Design/Build sought our assistance on a project for their Belmont home they'd long been dreaming of: a comfortable outdoor space, creating a screened porch with heating elements. The Feinmann team made a square cut into the existing space and installed new doors as one entrance to the porch. Connected to the hot tub by a screen door, the homeowners can now dry off in the warmth and comfort of the new outdoor room. Heaters and a smart interior design created a space worthy of enjoyment all year round.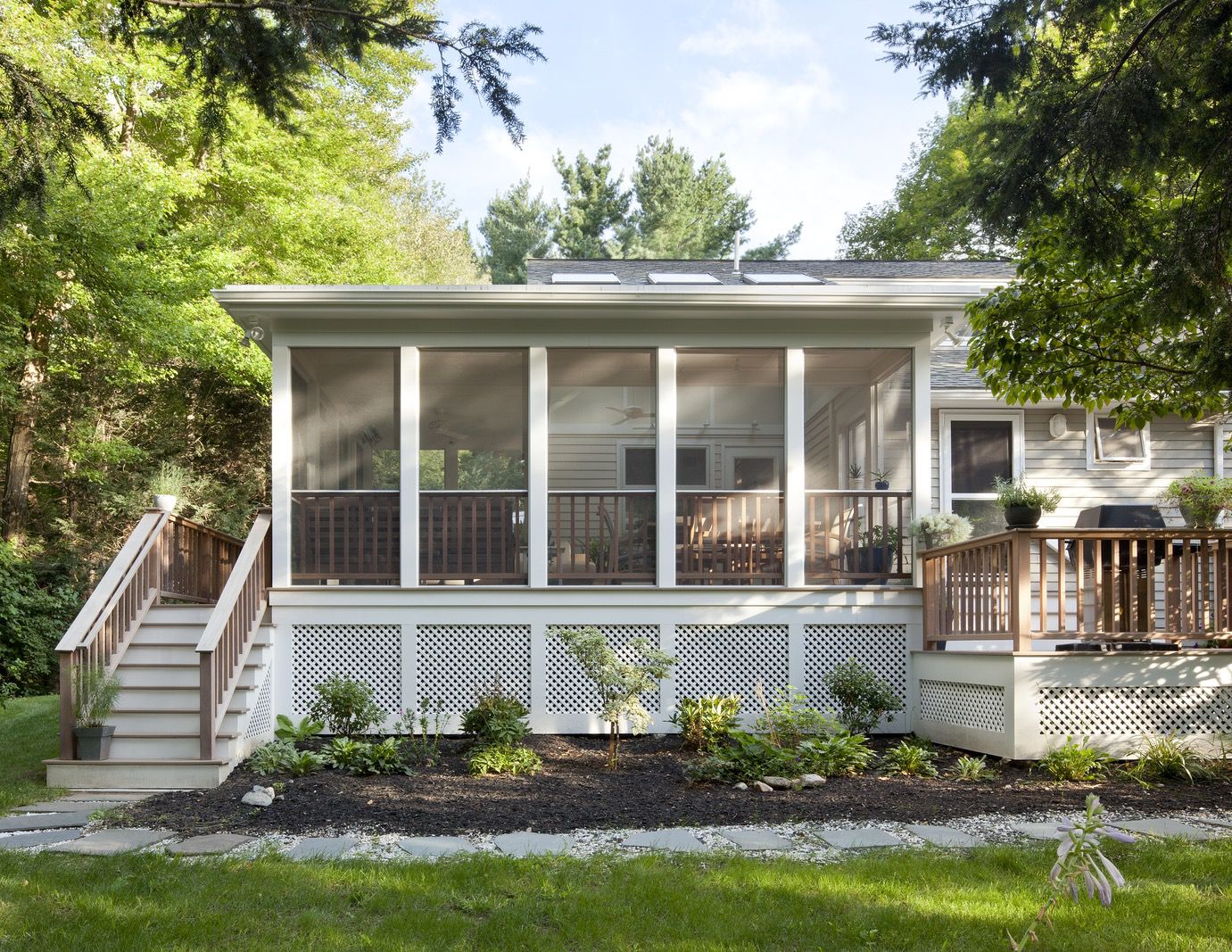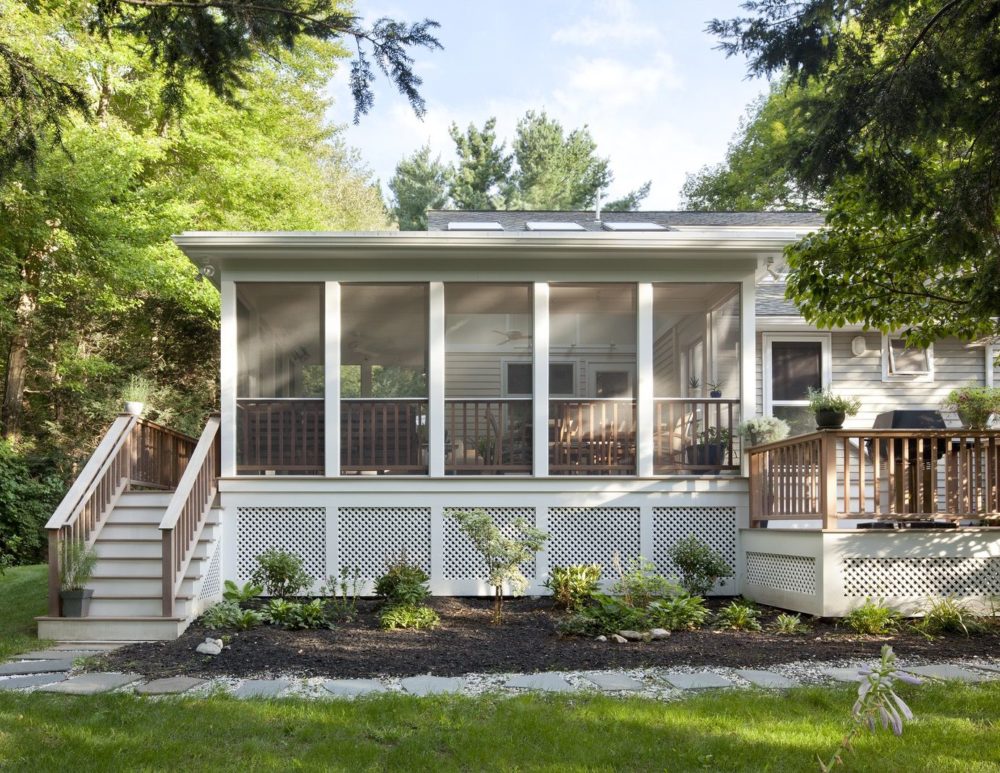 Photo Credit: A Room For All Seasons designed and built by Feinmann
---
Conclusion
We hope you have enjoyed discovering more about the beauty and dynamism of sunrooms. Whether you are looking to redesign your existing space, or build a new sunroom, our team at Feinmann can help you out. Feel free to contact our team for more information.